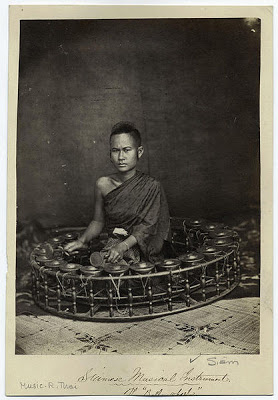 Although some might think having music classes in Bangkok, Thailand would be difficult, nothing could be further from the truth. A country some believe is only populated by monkeys, buffalo and elephants and stuffed with exotic temples and ancient ruins can't possibly be the place to take a music lesson, right? Wrong.
In fact, Bangkok has some of the best places in southeast Asia to learn music as Thais love to sing and love to play songs.
Music classes have actually been part of Thai culture for hundreds of years. Music classes in Bangkok range from jazz, piano, violin and symphony to drums, electric bass, voice and a lot in between. If you're interested in taking a music class in Bangkok, check out these places – they have excellent music instructors and the prices aren't bad either.
Cora Music Academy – At Cora Music Academy just off Sukhumvit Road in Bangkok, you can learn everything from piano, to guitar, saxophone, drums, violin and singing. Plus, if you're one of Bangkok's budding karaoke singers, but aren't really sure if you're good enough then Cora Music Academy offers karaoke classes too. 222 Sukhumvit Soi 10 & 22 Soi 10/2, Sukhumvit Soi 63, Ekkamai, Bangkok – Tel: 0-2391-9684
Graceland Music School – Times Square is a popular location for classes, everything from Thai language and English schools to art and Chinese are around this area, so it's no surprise that Graceland Music School is here too. Graceland offers classes for both adults and children and you can learn piano, guitar, violin, flute and voice. 15th Floor, Times Square, Sukhumvit, Bangkok – 0-2253-9336
Robinsons Piano – Known by Thais as one of the best places in Bangkok to take piano lessons, Robinsons Piano offers piano lessons for all levels, but specifically concentrates on preparing piano students for examinations. I have had several Thai students learning English who have learned for years as Robinsons Piano and all play beautifully. 59/9, Sukhumvit 31, Banglamung, Chonburi 10110
Bangkok Piano – Bangkok Piano offers classes from Grade 1 thru Grade 8 of the Associated Board grades. You can choose jazz, classical, ragtime, show tunes or a mix of all and more. Teaching both theory and practice, the teachers at Bangkok Piano speak both Thai and English, so if your Thai skills aren't up to par, no worries.
You can also take lessons either at the teacher's home or in your own home if you prefer. Call Aeey at 0865-660-330 for more information and current cost of lessons.
Somtow Sucharitkul Performing Arts Centre – Named after a 29-year-old Thai prodigy, if you're an opera fan, you'll love this performing arts centre. Part of the Bangkok Opera (which has an excellent reputation) this place is for serious opera students.
Teaching both adults and children, you can get both individual training and also participate in workshops. I met a woman at a book club recently who had studied here for many years, and her voice was just lovely. Call them at 02-391-2045.
Most schools in Bangkok will take students from beginning level to advanced and most music teachers speak enough English that it won't be too difficult to learn, even with a small language barrier. Happy playing!