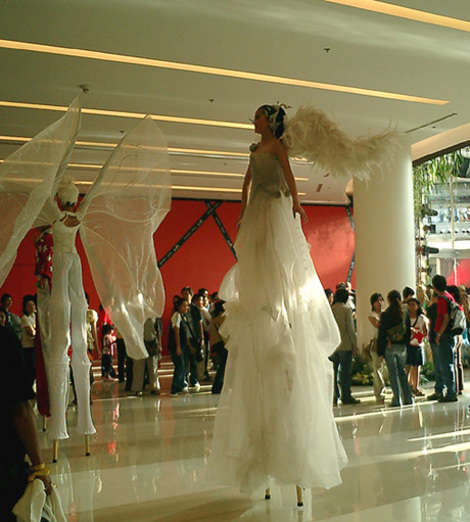 Visitors to Bangkok, Thailand at Christmas time are surprised to see Christmas lights all over the city. After all, isn't Thailand a Buddhist country?
Sure it is, but that doesn't mean they can't celebrate Christmas just like the rest of the planet. And, in true Thai style, Bangkok celebrates Christmas in a big way.
Christmas lights and decorations are up all over Bangkok – winking and twinkling in the hot steamy night. If you are lucky to be in Thailand at Christmas, take a trip to these best places to see Christmas lights – they will all put you in a real Christmas mood.
Sukhumvit Road – If you get off the sky train (BTS) anywhere on Sukhumvit Road, you will see the whole street lit up on both sides with Christmas lights and more displays and decorations on the median in the middle of the street.
Shops and malls on Sukhumvit also get in the Christmas spirit, putting Christmas decorations in their windows and stringing up lights outside their shops.
Ratchprasong Area of Bangkok – Ratchprasong is a wonderful area of Bangkok. Surrounded by some of the cities biggest and best shopping malls, Ratchprasong is a great place to see Christmas lights in Bangkok.
Central World Plaza is usually the best place to see Christmas lights, as they usually have an enormous Christmas tree and lots of lights outside, plus gorgeous Christmas displays inside. Also look at the other malls on the Ratchprasong intersection, as they are gorgeous inside and outside at Christmas as well.
Siam Square– Bordered by MBK mall on one side and Siam Paragon, Siam Center and Siam Discovery malls on the other, Siam Square is a wonderful place to experience the Christmas lights in Bangkok. The whole square (several streets) is decorated with lights, displays and glitzy decorations and the malls too get quite extravagant at Christmas.
Siam Paragon in particular even has dancers, drummers, Santa Claus and other Christmas live performances. Even Siam Paragon's outdoor palm trees are decorated with lights and have Christmas displays at their feet.
The Peninsula Hotel – Every one of my Thai friends makes sure they visit the Peninsula Hotel during Christmas, as their Christmas lights are truly spectacular.
The Peninsula is also famous for flying in a massive Christmas tree every year from Canada, then decorating it in truly lavish style. Plus, the hotel is on the Chao Praya River, which means you also get to enjoy the river lights along with the Christmas spirit.