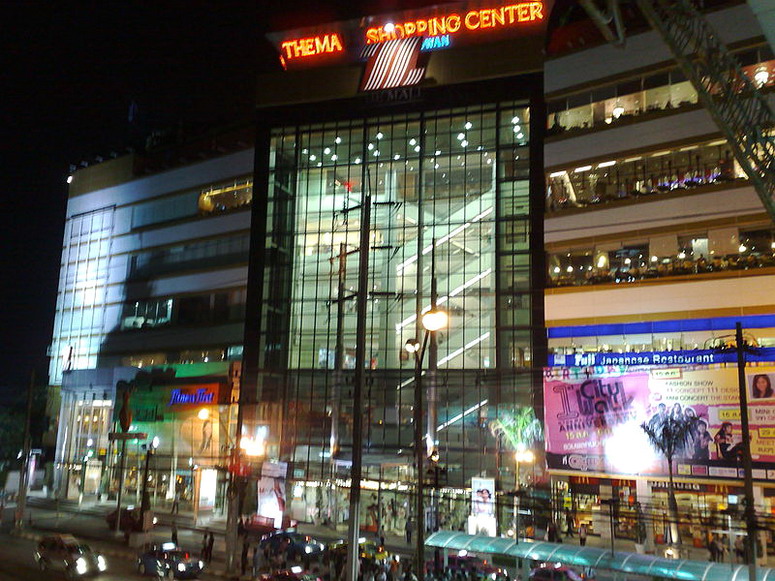 For the first four years I lived in Bangkok, Thailand, I worked on the outskirts of Nonthaburi. Although a province in its own right, Nonthaburi is still part of the Bangkok Metropolitan Administration so, for most Thais, when they eat or shop in Nonthaburi, it's the same as being in Bangkok.
One major difference holds though. If you eat or shop in Nonthaburi, prices are generally cheaper than in downtown Bangkok, as you're away from stores and malls that target the wealthy, and off the beaten tourist track.
Mall Ngam Wong Wan – One of the most popular shopping and dining venues in Nonthaburi, the Mall Ngam Wong Wan is perfect for a day spent bargain hunting and eating. It's a massive seven floor shopping mall, which has hundreds of shops and market stalls, restauraurants cafes, and a world-class movie theater.
For food, you'll find more than 50 restaurants serving everything from Thai cuisine to Japanese, Chinese, Italian and American. Look for Fuji Japanese restaurant, Sizzler for the best all-you-can-eat salad buffet, Hachiban for cheap and delicious Japanese noodles, and an assortment of superb Thai restaurants.
If you enjoy food courts, eat at The Mall's food court. There are around 40 stalls, all serving inexpensive Thai dishes, as well as stalls serving drinks and Thai desserts. Prices begin at only 30 baht ($1) per dish, and the food is excellent. It's lovely and clean too.
For grocery shopping, there's a western-style supermarket on the ground floor of the Mall Ngam Wong Wan, which is particularly useful if you're looking for ready-to-eat food to take home or back to your hotel. Their fruit and vegetable section is incredible too.
For shopping, clothing and accessories are the name of the game here, as the mall has a huge selection of shoe stores, accessory shops and market stalls, women's dress shops, men's shirt shops, casual clothing, business clothing, dress makers and tailors and more.
Look for The Export Shop, as they sell items made for export to western markets, but at prices as low as $2 per piece.
The Mall Ngam Wong Wan is on Ngam Wong Wan Road.
Pantip Plaza Ngam Wong Wan – If you're shopping for electronic items, the cheapest place in Nonthaburi is at Pantip Plaza Ngam Wong Wan.
It is a branch of the famous discount electronics mall in downtown Bangkok and while, of course, it doesn't have the enormous selection of the main branch, you'll still find amazing deals on computers, netbooks, cell phones, iPads, DVD players, TVs and, of course, the usual lot of knock-off DVDs and computer games. It's just a few doors down from the Mall Ngam Wong Wan, so you can't miss it.
Nonthaburi Fresh Market – For fresh fruit and vegetables, fish, meat and, of course, already-prepared Thai food, Nonthaburi Fresh Market is a fun place to visit. It's an authentic neighborhood market packed with small stalls selling all types of food, spices, snacks, and drinks.
At the back of the market, you'll also find a row of typical Thai food stalls, where you can buy rice dishes, chicken, som tam, noodles and a few other dishes. Great for a cheap breakfast or lunch.
You'll find Nonthaburi Fresh Market on Pratcharat Road.
Koh Kred – The island of Koh Kred on the Chao Praya River is also in Nonthaburi province and it's a fun place to spend the day with friends.
Rent a bike for the day (only 40 baht ($1.25) and cycle around the island, stopping off at the many cute independent shops, cafes and family-owned restaurants. Here, you will find good traditional Thai restaurants, and lots of food vendors selling Thai food and snacks. Don't miss picking up some of the traditional desserts too, as this is what Koh Kred is known for.
As for shopping, although you'll see a few small stores selling Thai handicrafts, the main thing Koh Kred is known for is a local red pottery, Mon Pottery. With thousands of pieces available at shops all over Koh Kred, you can walk away with a unique gift to take home for as little as 100 baht ($3).
You can catch an express boat out to the island from Saphan Taksin pier in Bangkok. This will take you as far as Pak Kret Pier, where you can take a boat across to Koh Kred.