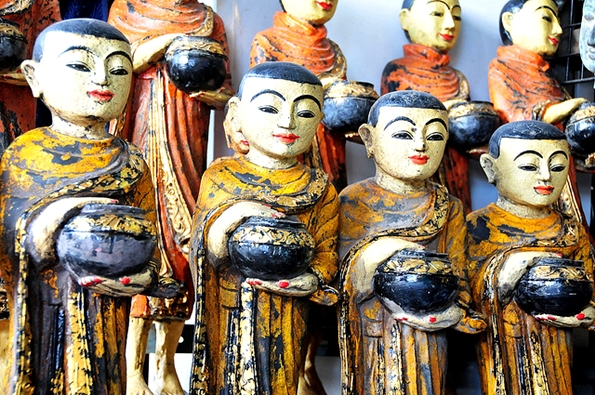 While Thailand is still one of the world's cheapest places to shop for souvenirs, prices have definitely increased in recent years. That's why for many travelers to Thailand on a strict budget, knowing where to buy Thai souvenirs cheaply is a must.
After all, by the time you've bought souvenirs for Mum and Dad, Aunt Jo and Uncle John, brothers, sisters, friends and your boss, you can end up spending more on gifts than the trip to Thailand cost you.
But, shop at these inexpensive souvenir places, and the cost will be the least of your worries. You may not have enough room in your suitcase .
Chatuchak Weekend Market – The absolute must-shop place in Bangkok, Thailand is Chatuchak Weekend Market. Open mainly on Friday evenings, all day Saturday and Sunday, it's more than 15,000 stalls sell every type of cheap Thai souvenir.
At Chatuchak, you'll find hundreds of stalls selling Thai silk scarves, Thai silk shawls, wood carvings, incense, jewelry, silk pillow covers, artwork, paintings, vases, wooden boxes, Buddha statues, ceramic ware – just about every souvenir made in Thailand is available at Chatuchak.
Related: How to survive Chatuchak Weekend Market — it's very big, huge and crowded all the time
As if prices aren't cheap enough at Chatuchak, you can also bargain heavily and, if you buy a couple of items from each stall, prices will come down even more.
For shopping for Thai souvenirs on a budget, every tourist in Bangkok should start off at Chatuchak, then shop at other cheap places for the pieces they couldn't find.
Chatuchak Weekend Market is next to Mo Chit BTS sky train station, as well as next to Kampaeng Phet MRT underground.
Mahboonkrong (MBK) Mall – One of the cheapest shopping malls in Bangkok, MBK sells every day products (clothing, shoes, accessories, DVDs, jewelry etc) on its first few floors. But, if you're shopping on a budget and looking for cheap Thai souvenirs, the seventh floor of the mall has an enormous Thai handicrafts section.
Related: What to buy at Mahboonkrong and how to get there
Here, you can shop for Thai silk (clothing, ties, purses, handbags, pillow cases), wood handicrafts, lacquer ware, handmade candles, Thai handmade paper products, jewelry, Buddha statues, hand made paper flowers, Thai paper lamps, bags and purses – there's even a stall that sells eco-clothing, a perfect souvenir for that relative who's trying to save the planet.
Mahboonkrong (MBK) is also easy to get to, as it's right next to National Stadium BTS sky train station.
Talad Lot Fai (The Train Market) – A wonderful recent addition to Bangkok's night market scene is the Talad Lot Fai, or 'Train Market', which sells tons of unusual Thai antiques, Thai kitsch from the 70s and 80s, Thai t shirts and clothing, snacks and candy, even old car parts and radios.
If you want to buy a Thai souvenir that's not only dirt cheap but truly unusual, Talad Lot Fai is the best place to buy it. Plus, it's cool – packed full of food and drink stalls and has a party atmosphere so, if you're stuck for something to do on a Saturday or Sunday evening in Bangkok, this is the place to shop, eat and drink.
Don't miss checking out the old warehouses either, where you will find antique shops, and tons of vintage items.
Talad Lot Fai (pronounced Ta-laad Lot Fye, in case you have to ask) is open on Thursday – Sunday from around 5:00 pm – 1:00 am.
Talad Lot Fai is on Srinakarin Soi 51, just behind Seacon Square Shopping Mall. It is huge, so be prepared to be there for hours.
Siam Square – If you're looking for cheap souvenirs for a teenager or young adult, Siam Square in downtown Bangkok is the place to go.
This is the hangout for teenagers and university students and is packed with tiny boutiques, market stalls and shops selling clothing, shoes, t shirts, hats, bags, belts, purses, jewelry, CDs, DVDs, posters, hand-painted items – and some of it is even made by local Thai artists or Thai university students.
As it's targeted to students, prices here are dirt cheap and, even for older adults, there's so much to buy I doubt you'll get out of there without at least a few unique items in your bag.
Easy to find, it's next to Siam BTS sky train station, and is the huge area of shops directly opposite Siam Paragon and Siam Discovery malls.