Thailand has hundreds of universities throughout the country, but the best universities in Thailand are still in Bangkok. From Chulalongkorn to Thammasat , Kasetsart to Assumption, there are many choices.
Of course, depending on which Thai you speak to, you will get a different answer about which Thai universities are the best. But, as far as international standards go, it is commonly accepted these Bangkok universities usually fall in the top five.
Do not expect any of these universities to be as good as most European, North American, Japanese, or Korean universities. They are simply not.
Chulangkorn University – Chulangkorn is the oldest university in Thailand and is thought, by many people, to be the best. Conveniently located near Siam Square, it is also known as the first university in Thailand to have a member of the Royal Family graduate from it.
Before Princess Maha Chakri Sirindhorn graduated from Chulalongkorn in 1977, every other member of the Thai Royal family with a university degree had graduated from a university overseas.
Known as 'Chula' by most Bangkokians, this university offers pretty much everything for a Thai university student. It is one of the top 4 Thai universities for Accounting and Finance, has an excellent business school, and is sought out by students all over Asia for its Fine and Applied Arts school.
The school is ranked as number 121 in the world by the Times Education Supplement and 46th in the world for Social Sciences.
To attend Chulangkorn for most degrees, you do have to be fluent in Thai language as all classes are in Thai, unless you take a degree in one of several English language programs.
Thammasat University – Usually named in the top 5 universities in Thailand, Thammasat University is Thailand's second oldest university.
Thammasat has 6 campuses throughout Thailand, but its main campus is still on Rattanakosin Island in Bangkok, near the Grand Palace and Wat Phra Kaew.
Thammasat is famous for graduating many Thai prime ministers and governors of Bangkok. It is also the university that had more than 300 of its students massacred by the police and army in 1976 after protesting against the government.


Thammasat has an excellent school of technology, is known for its political science school, and its marketing and business programs.
Unlike many other Thai universities, the school also runs several international programs where most classes are in English language. Often, the students that graduate with degrees from Thammasat therefore speak much better English than students that graduate from similar programs at Chulalongkorn.
Mahidol University – Mahidol (pronounced 'Ma-hee-don') is one of Asia's top schools when it comes to medicine, and this is what the university primarily concentrates on.
With schools of Dentistry, Medical Technology, Nursing and Pharmacy, if you are at all medically minded, Mahidol is where you should be studying.
The university is also famous for the amount of money it spends on research, as well as the high number of international students that attend Mahidol.
It runs three large hospitals including Siriraj, the oldest and largest hospital in Thailand. The university campus is by the river at Bangkok Noi, and easily accessible by boat.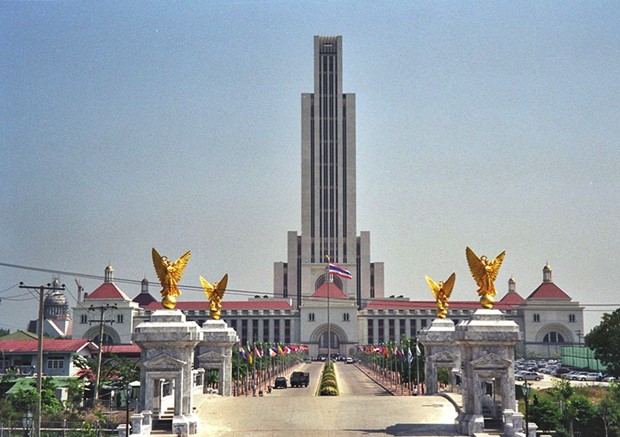 Assumption University – Assumption University is a private university and is known for attracting the most international students. With more than 6,000 students from China as well as students from India, Nepal, Pakistan, Korea and Myanmar, Assumption also has a small number of students from the US and Europe.
Assumption is known for its Business Administration program as well as its Law school and it also has a good English Language program and an excellent Masters degree program in English Language Teaching.
Assumption's main campus is at Hua Mak in Bangkok, with two other campuses at the Central World mall and near the Suvarnabhumi airport area.
Kasetsart University – Kasetsart is the third oldest university in Thailand and is currently famous as being the place that Khun Poom, the late grandson of the King of Thailand, was studying at (Khun Poom was killed in the tsunami that hit Asia a few years ago).
Kasetsart is known for its excellent agricultural department as well as its science, social science and education departments. The university has seven campuses in Thailand, with its main campus being at Bang Khen near Pahonyothin Road and Central Ladprao Mall.
These are just five of the top universities in Bangkok. If you are thinking of studying in Thailand, also look at King Mongkut Institute of Technology, Silpakorn University, Ramkhamhaeng University, Bangkok University and Siam University as they are all reputable schools offering a decent education.