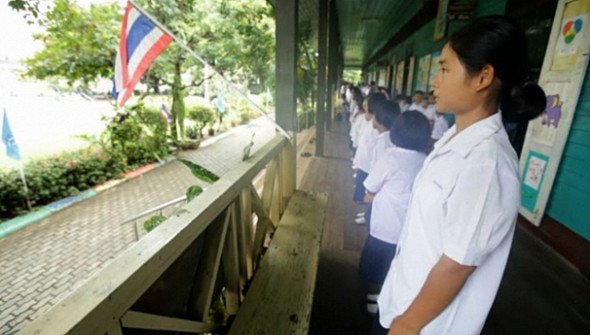 According to UNESCO, Thailand's literacy rate is actually quite high. Approximately 95 percent of all Thais over the age of 15 are classified as literate. That's why it's unusual to see a Thai, male or female, that cannot read or write the Thai language.
The Bangkok Post, however, has the story of 28-year-old Boonruang Pohdaeng, who never learned to read or write Thai. So, one day, she showed up at a Thai primary school in Saraburi and asked if she could register for first grade, so she could learn to read and write like everyone else. Boonruang is now in a class of six-year-olds; learning Thai language just the way little kids do.
While you have to congratulate Boonruang for taking the initiative to become literate, having to learn among a class of six-year-olds also highlights how adult education in Thailand is poor when it comes to teaching basic literacy skills. Unlike other countries, where older people are helped to become literate, Thailand has very few programs available and almost none in the rural areas at all.
That's also why it was nice of Nongkatat School's director, Somporn Pakkapork, to allow Boonruang to study there. After all, if he hadn't, she may never have had the chance to learn to read and write Thai at all. Now, she's already thinking about what kind of job she can do once she is literate and able to join Thailand's work force.