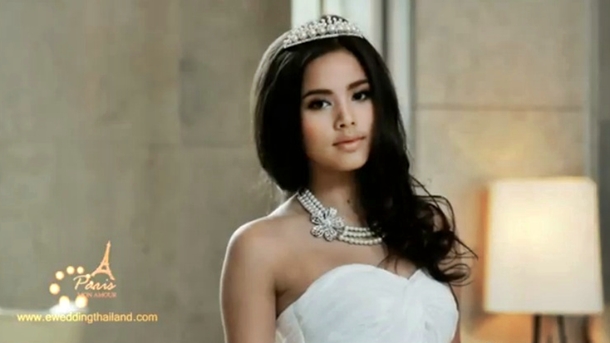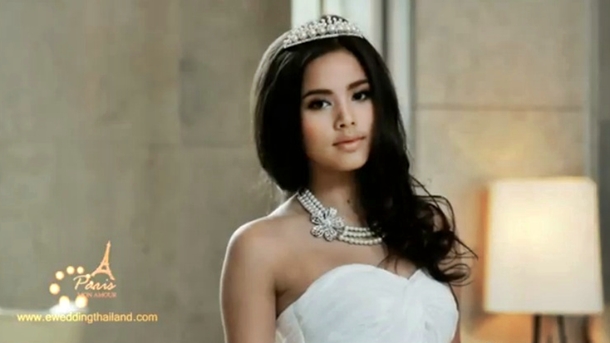 You might think being Buddhist and conservative that a typical Thai wedding would be, well, 'Thai'. In fact, many Thai weddings now will often incorporate both a traditional Thai Buddhist wedding ceremony in full Thai dress, and then a white Western-style reception afterward.
In fact, floating white wedding dresses are becoming as much of 'the norm' in Thailand as is the traditional fare, with just about every Thai girl I know who got married in the last couple of years buying a big white dress and having lots of wedding photographs taken in it.
What is wonderful about getting married in Thailand, too, is that most people who get married here buy a 'wedding package", rather than organizing their wedding themselves.
That means they pay a set amount for a package that includes setting up of the reception, make-up and hair, flowers, photographs both weeks before the wedding and during the wedding itself, lights and sound, a band and even a wedding dress and tuxedo.
Wedding packages in Thailand, when you take into consideration what you get, can be incredibly inexpensive, especially compared to a similar wedding in Europe or America. It's no wonder many foreigners get married in Thailand every year as well.
One of the nicest wedding planners in Bangkok, Thailand is Paris Mon Amour. They are more upscale than many of the wedding planners you will find exhibiting at local malls around Thailand, but if you are only going to get married once, who cares, right?
They have also recently started using Yaya Urassaya, one of Thailand's most beautiful and most popular actresses as one of their models, which means looking at wedding dresses just got a lot more fun when the gorgeous Yaya is modeling them.
If you are planning a wedding in Bangkok, Thailand and are interested in purchasing an entire wedding package, start with a look at Paris Mon Amour.
They will do everything for you, including organizing your wedding around a 'theme' of your choice.