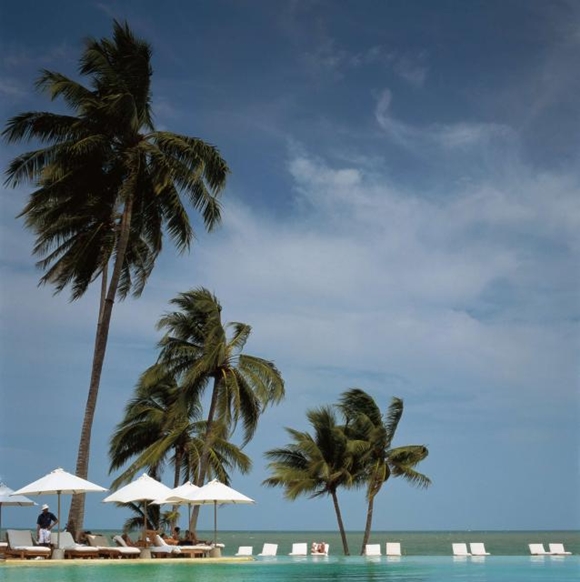 When I came as a tourist to Thailand for the first time ten years ago, I knew it was one of the world's top tourist destinations. When I got here, it was easy to figure out why. That first trip to Thailand as a tourist made me fall in love with the country so much, I sold everything I owned, left the US and moved here.
Eight years later, I've never regretted it. Thailand is one of the most amazing countries in the world, a fact that's known by the more than 15.5 million tourists who visit it every year. If you'd like to know why Thailand always shows up on the list of World's Top Tourist Destinations, it's simple. Thailand has everything.
The Thai People – Above the exotic climate, the stunning beaches, the incredible food and the cheap cheap lifestyle, the thing that really makes Thailand a top tourist destination is the people. Always happy, always smiling and rarely angry or aggressive, every tourist to Thailand experiences a land full of amazing people and superb hospitality – far removed from many of their realities back home.
Since my move to Thailand, I've always said Thais are the nicest people in the world – bar none. In eight years of living here, nothing has changed my mind on that score and I doubt it ever will. Ruled by the Buddhist way, Thai people are kind, courteous, gentle, polite, serene and always always smiling. Thailand isn't known as the Land of Smiles for nothing.
The Beautiful Country – Simply put Thailand is one of the most beautiful countries in the world. Stunning beaches, many of which you'll have seen in movies and in travel photos all over the world, amazing jungle scenery, phenomenal wildlife, mountains, vibrant green rice fields that feed a whole country, massive rivers that fuel the country, and hundreds of islands the likes of which you've never seen.
Add onto that exotic temples with golden roofs, elephants, tigers and monkeys, the thoroughly modern capital city Bangkok and the barely-touched-by-humans beaches of the southern islands and, if you can't find something beautiful to be astounded by in Thailand – there's something wrong with you.
Truly a photographer's dream, it's no wonder many photographers spend years traversing Thailand and still believe they haven't photographed the half of it.
The Climate – If you live in a dark, grey, cold or snowy place, stepping off that plane into Thailand's heat cheers you up like nothing else will. I've been to more than 40 countries and Thailand is the only one where I've experienced sunny blue skies almost every day, no extreme cold, never any snow – a pure joy to wake up to every morning. I step out of my apartment in Bangkok every day, it's always 85 degrees or higher, the sky is consistently blue and, if I'm depressed, a good dose of Thai sunshine will smack that right out of me.
Of course, we do get winter. Last year, it was for four days and got as cold as 68 degrees during the day. I kid you not.
Thai Food – As any food aficionado knows, Thai food is the most popular cuisine in the world. It's also one of the most varied. If you love to visit a place where you can buy a plate of fresh, spicy and flavorful food with a taste that hits all your senses for $1 a plate, then Thailand is the place for you.
Exotic fresh fruit, curries, noodles, rice dishes, barbecue, chicken dishes, pork dishes, Thai sandwiches and salads, Chinese-Thai food, Northern Thai food, Southern Thai food, and on and on. There's so much of it and it's everywhere, and in many places served 24 hours a day all year round. It's no wonder Thailand never falls off the World's Top Tourist Destinations list – for tourists who love food, there's no other destination worth visiting once they've been to Thailand.
The Cheapness of Thailand – Although prices have increased in recent years, Thailand still offers tourists an amazing deal for the money. You can stay at 4 star hotels all over the country for less than $50 a night (and often even cheaper), eat in incredible restaurants for $2 a meal, buy silk clothing for peanuts, DVDs, CDs and computer games for a few dollars, and shop at some of the world's biggest outdoor markets where, at 15,000 stalls, you can buy 100 items and still not have spent $100.
For anyone who loves traveling, if you haven't been to Thailand you're missing one of the world's greatest travel destinations. For anyone who has been, you already love it and, I'm guessing, have been
back more than just once or twice.
Thailand – anyone who's visited it knows it will always be the world's top tourist destination and some of us 'tourists' even move here.