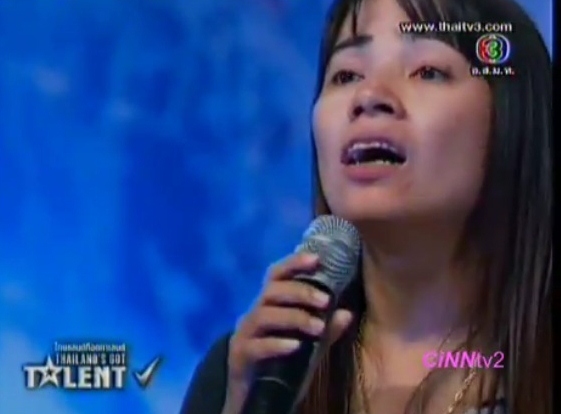 Last year's Thailand's Got Talent was one of the most dismal TV talent shows I've ever seen anywhere. Populated with mainly well-educated, high-society types that got on the show because they 'looked right' or were 'from the right family', in 2012 the producers of Thailand's Got Talent seem to have gotten the message. Most people watching it last year did not like the show, or the girl who won. So, Thailand's Got Talent 2012 is completely different. Gone are the hi-sos and the people who are on stage because they have 'white skin' and, instead, we're now getting to see real talent in Thailand from real Thais — like the amazing talent of singer Gig Warunee.
Gig is 32 years old and is from Yala in southern Thailand. She was brought up like most of Thailand in a poor household. She dropped out of school at the age of 12 because her family couldn't afford the $45 a year it would have cost to send her there. However, she taught herself to sing and eventually got a job singing in a hotel. She entered Thailand's Got Talent because she would like to buy a house for her family. And, man, is she good.
When she walked on stage for the first round of Thailand's Got Talent two weeks ago, Gig Warunee was in tears. Nervous and shaking, it all looked a bit too much for her. But……when she began to sing, she took over the stage and showed the judges what she could do. Singing 4 Non Blondes song "What's Up", which is one of THE most difficult songs to sing, not only did she absolutely nail the song, her singing it in English was almost flawless too.
When the judge asked her how she learned such a flawless English accent, she simply said she listened to the songs and then wrote the words down and memorized them.
If Gig Warunee doesn't win Thailand's Got Talent, (unless of course there is someone even more talented than she is), there's something severely wrong with the show, the voting process (which was pretty much rigged last year), and the judges. And the 2012 Thailand's Got Talent will be the last time I watch it.