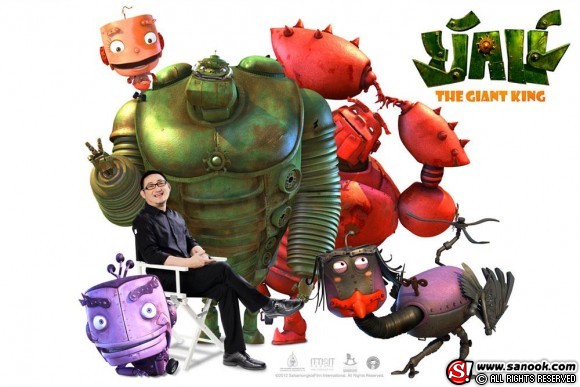 'Yak: The Giant King' will be hitting Thai movie theaters this weekend and I'm so excited. It's the first Thai animated movie to be released in a while, and it looks cool.
Created by screenwriter Prapas Cholsaranon, Yak: The Giant King tells the story of two robots — a teeny, tiny pink one and an absolutely enormous green one — who find themselves chained together. At first they try to get the chain cut off, but then when they are told it's a "special chain" that's made for a war robot to be used in battle they have to learn to live with it, while trying to stop a world war.
Yak, by the way, is actually based on the traditional Buddhist Ramayana Saga featuring the reincarnated Ravana and Hanuman in modern form — robots, don't ya know.
This animated movie is extremely unusual for Thailand, though. Normally the movie is released in Thai movie theaters with a few showing it with English subtitles. But, when it's released on DVD, the English subtitles are gone. Awful if you don't speak Thai.
With Yak: The Giant King, however, the director and producers have decided to produce several versions — a Thai language version, a Thai language version with English subtitles and yet one more with an English language soundtrack and Thai subtitles. Really awesome decision there, and hopefully one which will go a long way to making the movie popular world-wide, as well as help Thais wanting to improve their English.
From the Yak: The Giant King video trailer, let me just say the animations are absolutely beautiful and this will be a 'must see' movie for me. I'll just be waiting until one afternoon next mid-week, when the crowds have dissipated about it.
Look out for my review after I've seen the movie. This should be a good one.
As for movie times, you'll find them at Movie Seer for movie theaters all over Thailand.