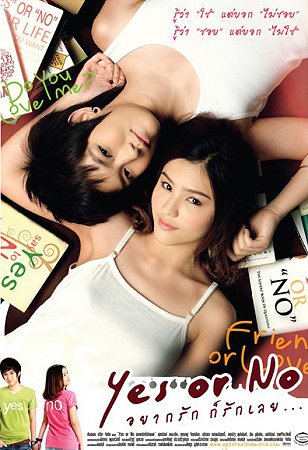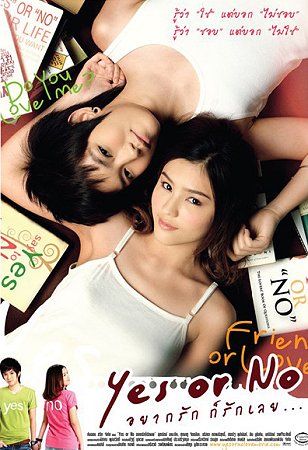 I was reading on the internet today that Yes or No 2 the sequel to the very successful Yes or No, (Yak Rak Ko Rak Loe or "Let's Love As You Wish") has done quite well at Thai movie theaters. Yes or No was the first lesbian movie to quite successful in Thailand, as it was a sweet, cute and funny love story between a girl who doesn't yet know she's a "tom" (Thai for "butch lesbian") and another who already has a boyfriend.
In the first Yes or No, the girls start university together and end up sharing a dorm room. Pie, the sweet supposedly-heterosexual girl, doesn't like sharing a room with Kim, as she believes she's a tom. Kim insists, even though she looks like a stereotypical tom, she isn't one. Of course, they eventually fall in love and, of course, there's a happy ending.
In Yes or No 2, the two young women have now been in a relationship for three years but things are about to get bumpy when Kim takes an internship in northern Thailand that means they'll both be separated.
Both movies were directed by Sarasawadee Wongsompetch who is herself a lesbian. She made the movies as she wanted to show what it's like to be gay in Thailand and how, even though being lesbian or gay is often tolerated and accepted in Thai society, it's often not talked about among Thai families. You'll often meet Thais who live together as girlfriend and girlfriend, or boyfriend and boyfriend, but their families think of them and speak of them as "just friends".
Sarasawadee Wongsompetch felt so strongly about more Thai young people being able to see positive images of gays and lesbians she even had free copies of the movie distributed to some Thai schools, so more could see it.
If you haven't seen Yes or No yet, or Yes or No 2, you really should. Whether you are straight, gay, bi or completely asexual. It's nice to see a well-made, well-written Thai movie with sweet characters and an interesting story, especially one that is so different than the type of movie normally made in Thailand.
Yes or No is currently available on YouTube, (although who knows for how long before it's taken down for "copyright issues" – which would be a shame, as not many people outside of Thailand get to see Thai movies, especially those portraying gays in such a positive light).
Yes or No 2 is also still showing at some Thai movie theaters, although it was released a month ago so not for much longer. See both if you can.
Both movies star Sucharat "Aom" Manaying as Pie and Supanart "Tina" Jitalleela as Kim, and were directed by Sarasawadee Wongsompetch.