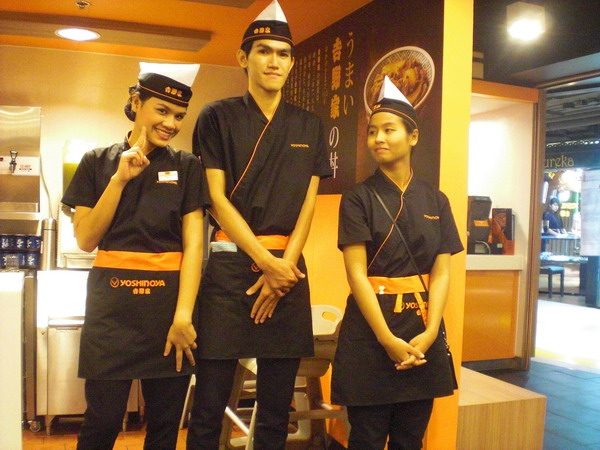 Yoshinonya, the Japanese rice bowl people, used to have restaurants in Bangkok, but shut down all its outlets in Thailand ten years ago and left. Now, the Central Group has managed to get an agreement with Yoshinoya to open Japanese rice bowl restaurants in Thailand and, in the last couple of months, several restaurants have already opened in Bangkok.
That Yoshinoya Japanese rice bowls are the best there are to eat is evident by the hundreds of Thais who are desperate enough to wait for a table at each of the new restaurants. When I recently ate there, I have to say, I agree.
The Yoshinoya rice bowl is a beautiful thing. Known for its flavorful rice, crisp fresh vegetables and, above all, its succulent imported Japanese beef, once you've eaten a rice bowl at Yoshinoya, you'll never be satisfied anywhere else.
On the menu at the moment is the restaurant's signature Beef Bowl, nothing but top-quality Japanese beef and onions served over a huge bowl of rice. If you want veggies with that, you can order the Vegetable Beef Bowl or, if beef isn't your thing, there's Teriyaki Chicken, or a Shogayaki Bowl.
All rice bowls at Yoshinoya in Bangkok are between two prices — starting at 99 baht ($3.05) for a regular bowl and going up to 149 baht ($4.95) for a 'Super Bowl', with the Large size falling somewhere in between, depending on which type of bowl you order.
If you've never had a Yoshinoya Japanese rice bowl, you're missing a treat. You'll find them at Central Ladprao (in the basement), at Central Rama 9, at Seacon Square, and at Bangkok's newest shopping mall, Terminal 21.
For another excellent Japanese rice bowl restaurant, also check out Chou Nan, as they also have branches all over Bangkok.