Best exchange rates in Bangkok, Thailand in 2018? SuperRich is the place to go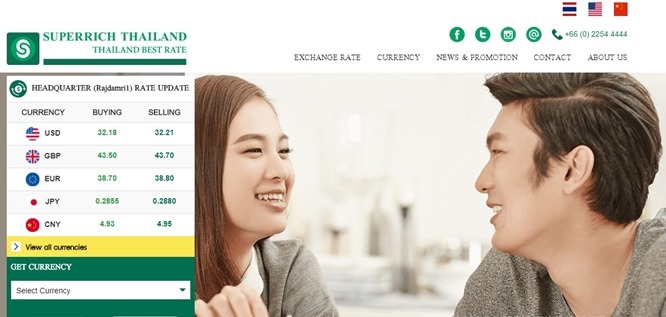 Most of the time, I bring money into Thailand from the U.S. via an ATM machine and a direct withdrawal from my American bank account. Better exchange rates, low fees (200 baht per withdrawal from the Thai bank whose ATM I use, and zero from my U.S. bank) and a lot more convenient.
There are times, though, when I have U.S. dollars or British pounds and need to find the best exchange rates in Bangkok for cash. So where do I go?
Without a second thought, I head nowhere else but — SuperRich.
What is SuperRich?
SuperRich is a foreign currency exchange company based in Bangkok that sells themselves as offering "the best currency exchange rates in Thailand", but do they?
In my experience, yes.
Sure, I have seen slightly better rates at other Bangkok foreign currency exchange booths occasionally, but that is not always the case and I don't have hours to waste checking either. Not just to save one 20th of a baht, five percent of the time.
Here is just an example of a better rate — today, January 5th, 2018, Kasikorn Bank is offering an exchange rate for the U.S. dollar of 31.74.
The rate SuperRich is offering?
32.18
What does that difference mean?
If you exchange $500 at SuperRich as oppose to Kasikorn Bank, you would get 16,090 baht at SuperRich versus 15,870 baht at Kasikorn. A difference of 220 baht. Not a huge amount, but a couple of meals out at an average Bangkok restaurant and, of course, if you exchanged $5,000 at SuperRich, a difference of 2,200 baht and that is quite substantial.
SuperRich main office versus SuperRich exchange booths
SuperRich has many sub-offices scattered around Bangkok, but these are not always the best places to go to get the best exchange rate in Bangkok.
Why?
Due to SuperRich offering a lower rate than is advertised on their website much of the time. Plus service can be slow and, I kid you not, smaller SuperRich offices or booths occasionally do run out of Thai baht.
If you want the guaranteed best rate SuperRich offers, change your foreign currency at their headquarters instead, as this is where you will always get the rate advertised on the Super Rich website.
The SuperRich main office is at 45 Rajdamri, 1 Rajdamri Rd. Lumpini Patumwan, and is just a few minutes walk from Central World.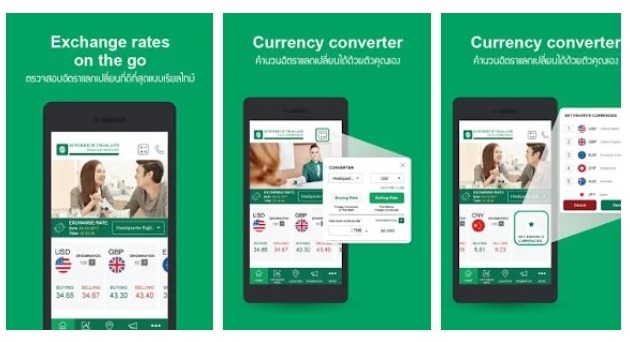 The SuperRich app
SuperRich also has an app that you can download for free on Google Play and on iTunes App Store. It's handy if you want to monitor current exchange rates so you get the best one.
It covers 30 foreign currencies, and has an easy currency converter.
Things to remember about SuperRich
You will need your passport when you go to exchange money. No passport, no exchange possible.
 Exchange as much as you can. That way you are not having to trek back to the SuperRich main office every week and pay BTS, bus or taxi fares to do so.
Go mid-morning or after lunch (the main branch is open from 9am to 6pm, except weekends when they close at 5pm). Around the lunch hour and right as businesses are beginning to close can be quite busy, and you don't want to have to wait half an hour just to get some cash.
Always check the rates they are offering with rates at Thailand's main banks before you go. You can do this via the Internet. Yes, it is rare any of Thailand's banks offer the same foreign exchange rate as SuperRich. I have seen it a couple of times, though, so well worth a check.
Finally, put your cash safe once you exchange it, as you are a target for thieves if you walk out of a foreign exchange place waving your cash around.
SuperRich is open every day — including weekends and public holidays.
Should you buy Thai baht before arriving in Thailand? No, and here is why
Is Bangkok Bank the right Thai bank for you?