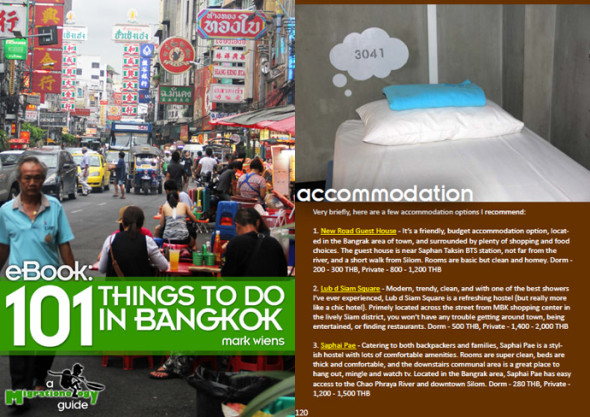 Planning on heading to Bangkok but have no idea what to do when you get there? No worries. There is a new ebook out that can definitely help.
Called '101 Things to Do in Bangkok', the ebook is the creation of Bangkok expat Mark Wiens who has lived in Thailand on and off for the last five years.
Known for his excellent website, Migrationology, Wiens has temporarily moved away from his love of Thai food and on to his love of Bangkok, Thailand's capital city.
What is great about this Thailand ebook though, is not only is it absolutely beautifully designed, it is also a must-buy for both tourists to Asia's favorite city and expats who will find some places in it they have never visited, and things they are not familiar with.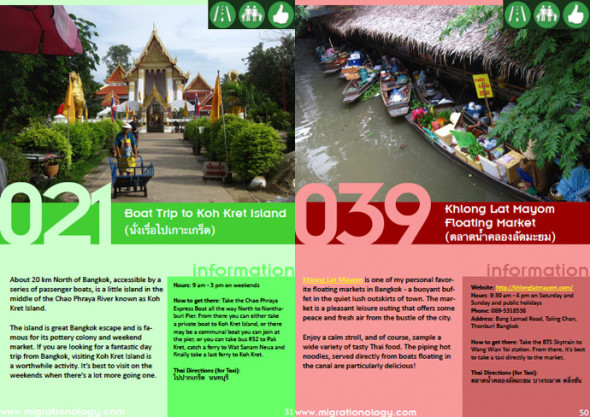 In this lovely looking Bangkok ebook, you will find photographs of every one of the 101 places to visit in Bangkok with descriptions about what to expect, directions how to get there in both English and Thai (useful if you need to take a Bangkok taxi), and a Google map that shows every attraction on it in relation to the others.
Wiens has also included tips about prices in Thailand, airport information, accommodation tips, opening times, and even his top 10 favorite Thai dishes if you want to try authentic Thai food while you are here.
You can buy the 101 Things to Do in Bangkok ebook directly from Mark Wiens' excellent website. At only $3.99 for the digital download, it really is a bargain.
Plus, think of it this way, rather than lug a huge guidebook around with you when you do arrive in Bangkok, just download it to your laptop or tablet. You can then fire it up on the road and check out the next fun Bangkok place to see.