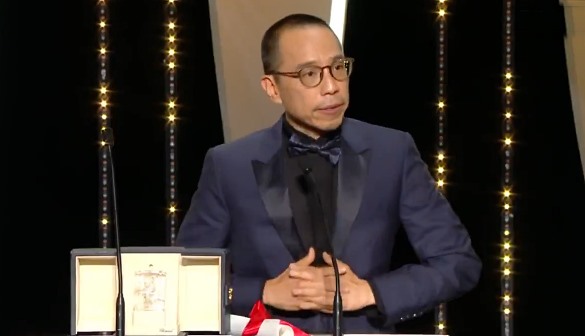 As the Thai government's handling of the Covid-19 crisis continues to worsen, Thai film director Apichatpong Weerasethakul won the Jury Prize at the Cannes Film Festival last night for his film Memoria.
Apichatpong previously won the Palme D'Or in 2010 at the same festival for his film Uncle Boonmee Who Can Recall His Past Lives.
In his acceptance speech for his now-second Cannes award, Apichatpong criticized the Thai government for their disgraceful mismanagement of the Covid-19 crisis.
After thanking the film's star Tilda Swinton, Apichatpong called out the Thai government (and the Columbian government where Memoria is set) saying:
"I am lucky to be standing here, while many of my countrymen cannot travel. Many of them suffer greatly from the pandemic, with the mismanagement of resources, healthcare, and vaccine accessibility. I want to call out for the Thai and Colombian governments, and the governments of countries in a similar situation, to please wake up, and work for your people, now."
Of course, in one of the most censored countries in the world when it comes to press freedom, many Thai news outlets did not report on Apichatpong's comments about the Thai government.
Meanwhile, since April 1st, more than 350,000 cases of Covid-19 have been confirmed in Thailand, with almost 3,350 deaths.
Covid-19 cases in Thailand hit a daily record today with almost 11,400 new cases and 101 new deaths.
New protests against the Thai government of Prayut Chan-o-cha also erupted in Bangkok and elsewhere today, with thousands of Thais demanding the prime minister resign.