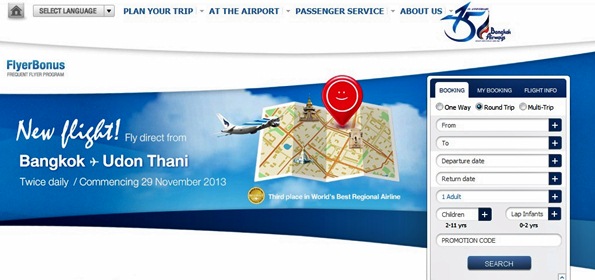 New Bangkok Airways flights from Bangkok to Udon Thani
For anyone with friends or family in Udon Thani, Thailand, the good news this week is Bangkok Airways has just announced they are launching a Bangkok to Udon Thani route. Direct flights will begin operating from Bangkok's Suvarnabhumi Airport to Udon Thani from November 29th, 2013, with two flights each day.
Not surprising really, as Udon Thani is one of Thailand's fastest growing cities, Isaan's largest commercial hub and close to the Thailand-Laos border.
As for the cost of a Bangkok Airways flight from Bangkok to Udon Thani round-trip? It's currently being advertised at 3,580 baht or approximately $113.65 if you book a non-refundable flight. Taxes, of course, will add a chunk on top, and you must book your flights before the end of September.
Don't forget too, Bangkok Airways is still running specials on flights from Bangkok to Chiang Mai, and Bangkok to Mandalay, Myanmar. They have awesomely cheap prices on those as well.