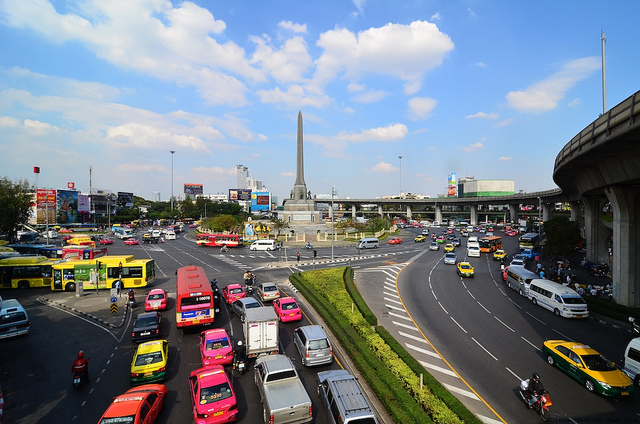 When non-Thai friends ask me where is the easiest place in Bangkok to travel to for cheap clothing and inexpensive shopping, I tell them Victory Monument. Called Anutsawaree (Anutsawaree Chai Samorra Poom) by Thais, Victory Monument is the area of Bangkok most popular with students and young professionals, and many of them live there. That's why, at the market stalls, shops and small malls, you'll find some of the best bargains in Bangkok.
Victory Monument is also one of the coolest places to shop at night, as it's lively, loud, fun and the street stalls sell amazing food. You'll even find a couple of bars opening up selling beer and bucket booze. It's safe too.
How to Get to Victory Monument – Of course, taxis and tuk-tuks will take you and, as Victory Monument is one of the main change-overs for bus service all over the city, many Bangkok buses arrive here too. But, the fastest and easiest way to Victory Monument is on the BTS sky train. The train stops at a station directly over Victory Monument and, looking down from the platform, you can take cool photos of people shopping and of the massive monument the area is named after. Then, onto the actual shopping.
Where to Shop for Cheap Bargains at Victory Monument
Victory Point – This is the small street market area you'll see directly at the bottom of the sky train sky bridge steps, when you arrive at Victory Monument, and it covers most sides of the circular Victory Monument roundabout area. An area full of budget market stalls selling fashionable clothing, costume jewelry, accessories, bags and trinkets, it's a fun place to pick up a few items for just a dollar or two (many things are 100 baht or less here).
Don't miss out on the food and drink stalls too. One of my favorite iced coffee stalls is here (an iced latte for 30 baht ($1), and food stalls are wonderful for cheap snack items served on a stick (grilled squid, sausages, pork balls with a spicy sauce).
Ratchawithi (Ratchathewi) Soi 3 to Soi 9 Stalls and Shops – Every Thai girl and woman in Bangkok knows the best place to find cheap bargains at Victory Monument is at the stalls and shops between Ratchawithi Soi 3 to around Soi 9. In true Thai fashion, the street is also known as Ratchathewi, but it's where you'll find shoes, flip-flops, belts, bags, t shirts, work clothing, leisure clothing, mobile phone accessories and truckloads of other things. Remember, at the market stalls and some of the small shops, if you buy two or three things, you can bargain too.
Century Plaza, Victory Monument – My first couple of years in Bangkok, I missed this place but, once I discovered the market stalls in the basement, it became one of my favorite haunts. Nothing more than a typical multi-story mall in Bangkok, Century Plaza is a bit old-fashioned, meaning rents for stalls and shops are cheap. That translates to cheaper prices for the customer, and particularly in the basement where affordable bags, clothes, fashion wallets and purses, belts, towels, sheets and a slew of other cute items are always on offer.
Don't miss the shops on the higher floors too. Although not as cheap as the stalls, they're still up there with the cheapest shops in Bangkok and, as this isn't a tourist spot, you won't get the typical rip-off tourist prices.
Century Plaza also has a great selection of restaurants if you're dying for a meal, but don't feel like sitting outside at a roasting hot Victory Monument food stall.