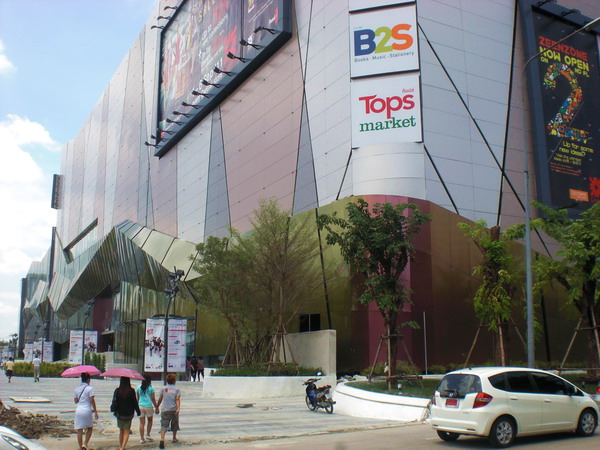 Many tourists are surprised when they come to Bangkok, Thailand, to see how many department stores there are. From Central to Siam Paragon, Robinsons, Zen and Isatan and, of course, Tokyu – Bangkok has a lot of department stores. But, if you like department stores, which ones are the best and why?
Central Department Stores are the most popular department stores in Bangkok. There are many locations (the location at Central World, Central Ladprao and Central Chidlom are the most popular ones) and they sell almost everything. They're also an excellent place to buy clothing for Westerners as they are one of the very few places in Bangkok that actually sell Western sizes.
The downside to Central is that their prices are also Western prices so, compared to most other places in Bangkok, they are expensive. But if you have problems finding clothing to fit you, Central will usually have what you need. They do also have excellent sales, and the bargains then are amazing.
Siam Paragon is a large department store that has at least six floors. It's in the Siam Paragon mall right next to the Siam sky train station. If you're looking for stationary, art supplies, Korean TV series on DVD, designer clothing, brand name cosmetics, or high-end electronics, Siam Paragon has everything. I buy all my art supplies at Siam Paragon as well as Korean TV series.
They have a nice little café on the same floor as the stationary department as well as a lovely children's department with every toy imaginable as well as designer clothing (looking for Osh Kosh or something similar, Siam Paragon is the place to come). It's probably the most expensive department store in Bangkok though, so don't expect to get any bargains here.
Robinsons is usually the department store to go to if you want a bargain and they have a lot of branches. They're a little old-fashioned now with none of the upscale offerings of malls like Siam Paragon, but they do have good sales and their prices are fair.
One thing I really like about Robinsons is the supermarkets that are usually attached to the department stores. They're known by Western expats in Bangkok to be a good place to buy Western food, not always available at other supermarkets, and their prices are good. Robinsons are also not as popular as the other department stores in Bangkok, so if you want a quieter shopping experience, especially on the weekends, Robinsons is your place.
Zen, in Central World Mall, is one of the Japanese department stores that have branches in Bangkok. Zen has a lot of the very fashionable clothing not always available in lower key department stores. Especially for teenage and young adult shoppers, their clothing definitely has an edge to it (great for jeans, designer t shirts, trendy clothing, belts, purses etc), but the prices do too.
I tend to avoid Zen unless there's a sale, as the prices are just too high for Bangkok but I have bought Thai handicrafts there (on sale, so not too expensive) and because they're Japanese, they're also famous for carrying lots of Japanese brands – Hello Kitty, Conan, Hiragana, Totoro and more. Zen is also quieter than many other Bangkok department stores.
Isetan is in Central World Mall and is great to visit if you're looking for a good Japanese supermarket as their supermarket is superb. It's full of Japanese expats, but also full of delicious Japanese food, which you can even buy ready made at the many food stalls next to the supermarket. Their sushi here is excellent and don't miss out on their bakery as they make fresh bread daily that's to die for.
Isetan also has a large Thai handicrafts department, a fair department selling sheets and towels, and if you're looking for a Japanese sleeping mat or a saki set, here's where you want to look.
Tokyu is in Mahboonkrong (MBK) mall next to National Stadium sky train. It's a smaller department store than some of the others and only carries select items. I've bought electric kettles here for a reasonable price, a hairdryer, a couple of dress shirts (on sale!) and I often buy food at the top floor supermarket. Tokyu is known for the sales they have on clothing, which are on almost every week. You can get brand name clothing for men and women for 30% to 60% off, so it's worth checking out every week just in case.
Tokyu is also right inside MBK Mall, which is enormous in its own right so, if you don't find what you're looking for at Tokyu it's easy to head out into the mall and find it there.
These Bangkok department stores are wonderful places to shop if you need Western products, Western sizes, Japanese products, Japanese fashions and styles, international food and high-tech items. Prices will usually be higher than many other places in Bangkok but they do sell most things so, if you don't want the hassle of traveling all over Bangkok to get what you need, a trip to one of these Bangkok department stores will make you happy.