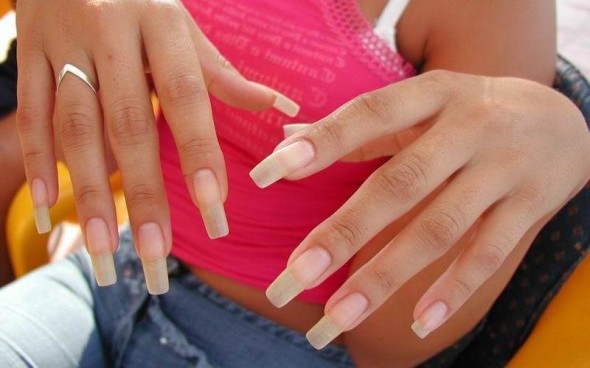 If you are in or going to be in Bangkok, Thailand don't miss getting a world-class manicure or pedicure for a dirt cheap price. With these manicurists offering great manicures, acrylic nails, fill ins, polishing, nail repair or even pedicures for less than $10, you can't afford not to.
Mahboonkrong (MBK) Mall – One of the best places in Bangkok to get your nails manicured is Mahboonkrong Mall. With many nail salons in the mall, there's so much choice it might be difficult for you to decide. I have had my nails done at 10 nail salons in MBK and had a great experience every time.
At MBK, you will find everything from tiny stalls with a wall full of fake nail designs, a table and two tiny chairs to large nail salons able to do manicures or pedicures for more than 25 people at a time.
Prices begin at 200 baht ($6.45) for a basic manicure or pedicure, and go up to 1,000 baht ($32) for a full set of fake nails, or for extravagant nail art.
Prices, of course, are cheaper at the tiny stalls than the larger salons but they all offer a fabulous service so it is up to you what you choose. Just walk around, check out a few shops and compare prices, then walk on in. No appointment necessary.
Mahboonkrong is located right next to the National Stadium BTS sky train station.
Central Ladprao – In the north of Bangkok near Mo Chit sky train station and next to Pahonyothin underground station stands Central Ladprao mall. There are several excellent nail salons here with prices matching MBK and even sometimes cheaper, as it is located further away from the downtown area.
The basement of the mall has several good nail salons, and you will also find a couple on the upper floors. Next to Central Ladprao, there is also a mini mall called "The One Park" that has some superb, and cheap, nail salons. (See the video for Glamour Girl Nail Art Salon below)
Prices for a manicure are as cheap as 200 baht ($6.45) and fake nails begin as low as 500 baht ($16). Nail polishing, nail tipping, nail conditioning, gel nails etc. are all available.
To get to either Central Ladprao or The One Park, take the MRT underground to Pahonyothin Station and follow the crowds.
Khao San Road – Because of its popularity with backpackers, the Khao San Road area of Bangkok has cheap nail salons that also offer wild and extremely modern nail colors and acrylic nail designs (or more traditional fake nail designs if you want those too).
Prices again here are in the 200 to 300 baht range to start. Be warned though, as they are catering mostly to tourists, you get a little more of a 'hard sell' here, and often prices end up more expensive than they would in an area catering to Thais.
But, if you are looking for a wilder design (or even getting your hands hennaed too), you can easily get that done on Khao San Road.
The best way to get here is to take the boat up or down the Chao Praya River to the Phra Ahtit boat pier. Get off and follow the crowds.
Fortune Town Mall – Primarily known for its enormous electronics section, Fortune Town Mall also has some wonderful nail salons and, on the weekends, they are a little bit quieter than MBK or Khao San Road, so you will have less chance of needing to wait for an available manicurist. Manicures, pedicures, acrylic nails, gel nails, nail tipping, buffing etc. are popular at all salons here and, again, starting in the $7-$10 range for many services.
Fortune Town Mall is also a great place to grab lunch after getting your nails done, then on to buying a computer, camera, cell phone, software and DVDs.
Easily reachable from the Phra Ram 9 underground train station, as Fortune Town Mall is right next to it.
Siam Paragon and Central World Plaza – If you want a more upscale nail salon, look no further than Siam Paragon or Central World Plaza malls. Both of them have higher-end nail salons that offer manicures, acrylic nails, nail art and more. If you are looking for something a little more intricate with inlaid fake gems, you will find that here too. Some of the nail salons are within hair salons here too, so look around carefully before making your decision.
At Siam Paragon and Central World Plaza, unlike most other places, it is often expected you will make an appointment so, if you want something on the spur of the moment, this may not be your best choice.
To get to both malls, take the sky train to Siam station. Siam Paragon is right next to the station and Central World Plaza is a five minute walk away on the sky bridge.
Whichever nail salon you decide on in Bangkok, you will find the service is usually better than in the west (you get a lot more personal attention in Thailand) and the prices are exceptionally cheap. Plus, most salons are clean, well taken care of and hygienic.