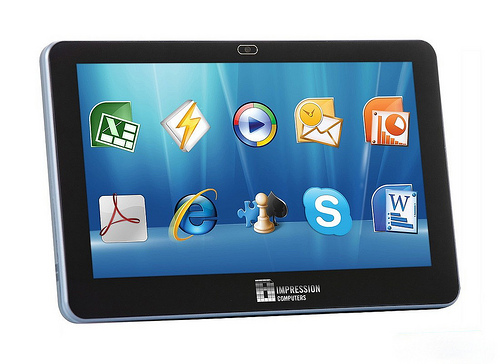 Best Places to Buy a Cheap Tablet PC in Bangkok, Thailand
I am somewhat of an expert on computers and tablet PCs in Bangkok, Thailand. That's because, in the 15 years I have lived in the city, I have bought at least five desktops, six laptops and three tablet PCs for myself as well as helped untold numbers of friends buy theirs.
That also means I now know the absolute best places to buy a cheap tablet PC in Bangkok , and in most cases I can even tell you how much they'll cost.
Bangkok, however, has thousands of IT malls, department stores, and independent computer sellers that sell tablet PCs and other IT products. Any newcomer to the city, therefore, or newbie looking for their first tablet PC purchase in Bangkok is usually unsurprisingly out of their depth, as there are so many choices of places to shop it's difficult to figure out where to go first.
As a long-term Bangkok resident that shops where the Thais shop, however, I can give you a few tips that will make that first tablet PC purchase in Bangkok far easier than it may first sound.
Don't Buy a Tablet PC at Pantip Plaza – Just about every tourist has heard of Pantip Plaza, Bangkok's largest IT mall, so it's the first place most of them go when they want to buy a tablet PC in Bangkok. Unfortunately for them, it is the last place many Thais would go or many long-term residents like myself, as Pantip is a hot bed of pushy sellers, bootleg products (including computers and tablets), low-quality items and scams.
If you want a pleasant shopping experience on your search for a tablet PC, avoid Pantip Plaza as it certainly won't provide that.
Fortune Town IT Mall – After years of buying computers in Bangkok, I don't go anywhere else but Fortune Town IT Mall anymore as it really is the perfect place to shop. Quieter than Pantip Plaza, but with still the same huge number of products to look at, Fortune Town is a nice mix of several hundred small independent sellers and larger IT shops.
Out of the eight major products and a myriad of smaller ones I've purchased at Fortune Town, I have never had a problem with either the product or the seller.
Every brand of tablet PC is also represented here. Apple, Samsung, Acer, Toshiba, Lenovo, Asus all have licensed sellers here, as well as do a slew of cheaper Chinese and Taiwanese brands of tablet PC you may never have heard of but shouldn't pass up in a hurry.
Sellers are usually incredibly friendly and helpful, not pushy at all, and all allow you to browse to your heart's content and try as many products as you like. Most will speak some English and, if they don't, there's always a seller at a neighboring stall who does and they'll have no problem going to get him.
Tablet PCs at Fortune Town are also some of the cheapest you'll find anywhere, and if you like free stuff with your purchases don't be surprised when they throw in a cleaning kit, a complimentary tablet bag and a few other nice little extras.
Finally, as Fortune Town also has a huge number of restaurants and cafes, independent shops and a large supermarket (Tesco Lotus), and is across and down the street from three enormous malls, you can actually make a day of it in this area of town.
Fortune Town IT Mall is just a couple of underground train stops from the main shopping area of Bangkok, so easy to get to as well. Just get off the train at Phra Ram 9 (Rama 9) station and you'll find Fortune Town right next door.
MBK (Mahboonkrong) Mall – Another place where Thais, and local expats, are likely to shop for tablet PCs in Bangkok, MBK Mall (full name Mahboonkrong) is excellent for computers, tablets, cameras, MP3 players, mobile phones — any kind of electronic device in fact. It's a huge shopping with all the usual shops and restaurants plus a full IT floor with at least 400 IT stalls and larger IT shops.
Prices are cheap at MBK, and they also sell a huge number of second-hand tablets and other second-hand IT products, so if you don't mind owning one someone else has already used you can get an excellent price on these. One of my Thai friends recently bought a second-hand iPad at MBK for only 7,000 baht ($223) and it was only a few months old.
The only word of warning about MBK is they do sell a huge number of bootleg products, including bootleg computers and tablets. To avoid this and make sure you're buying the 'real deal', all you need to make sure of is that the product you buy is in a still-sealed box and has an authentic warranty with it, or shop at one of the large chain IT stores at the end of the IT floor.
MBK is also easy to get to as it's right next door to the National Stadium sky train station in downtown Bangkok.
Zeer IT Mall – If you are staying close to Don Mueang Airport, Zeer IT Mall is a great place to shop for a tablet PC in Bangkok, particularly as it is mainly Thais who shop here so it's always 'Thai price'.
Zeer IT Mall is similar to Fortune Town mall in the types and varieties of products they sell and the prices they charge. With many sellers stocking tablet PCs here, you will also have a huge choice of tablets to look at and try out, as well as a large number of vendors to choose from.
Don't forget as well, if you find a tablet you like it's always well worth finding out which free products each vendor will give you along with your purchase, as sometimes one vendor is much more generous than another.
The best way to get to Zeer IT Mall, which is on Pahonyothin Road just off the Don Mueang Expressway, and if you're staying in the Don Mueang area, is to just wave down a taxi as every taxi driver in Bangkok will know where it is. if you're staying downtown, take the BTS sky train to Mo Chit station and then take a taxi from there.
One Final Tip – If you want to buy a tablet PC in Bangkok, Thailand, be sure to check the average price in your home country of the brands and models you want before you set off on your shopping trip. That's because, particularly if you are American, some tablets will be as cheap or cheaper in Bangkok, while others will be more expensive.
If you are European, however, you can pretty much guarantee most tablets you might buy in Bangkok will be cheaper than in Europe or the UK.