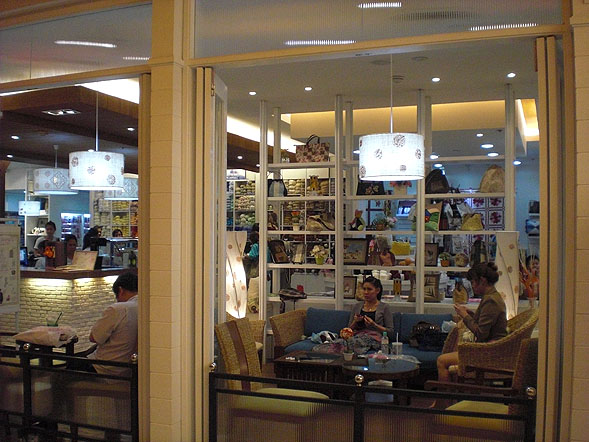 When I moved to Bangkok a decade ago, Thais weren't big crafters. Nowadays though, crafting is huge in Bangkok with many Thai women (and guys!) learning crafts like painting, knitting, jewelry making, scrap-booking, crocheting and sewing.
That's why Bangkok has now become a great city to buy craft supplies, with more craft supply shops popping up every month.
B2S – One of the first stores to start selling craft supplies is B2S. B2S is a bookstore and office supply store that's frequented by what seems like most of Bangkok's high school, college and university students.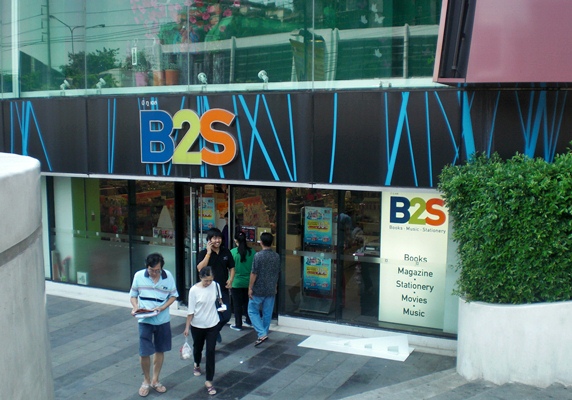 At B2S, you can get craft paper, knitting supplies, paints, paintbrushes and canvases, scrapbooking, decorated tapes,mosaic supplies, beads and wire for making jewelry, and sewing supplies. Prices there are cheap too.
You'll find B2S stores inside the Central Department Stores around Bangkok, with a very large one at Central World Plaza, next to Chidlom BTS.
Chatuchak Weekend Market – Just about the cheapest place to buy craft supplies is Chatuchak Weekend Market. With many stalls selling handmade Thai mulberry paper, ribbon, scrapbooking supplies, decorated tape, hundreds of sizes and colors of paper flowers, every bead known to man, jewelry wire, hilltribe silver, rubber stamps, fabric, yarn and on and on.
With prices up to one tenth of what you'd pay in the US or Europe, and at least 500 stalls selling craft supplies, you could spend all day here and still not see every stall.
To get to Chatuchak, open on Friday evenings, and all day Saturdays and Sundays, take the sky train to the Mo Chit BTS station and follow the crowd.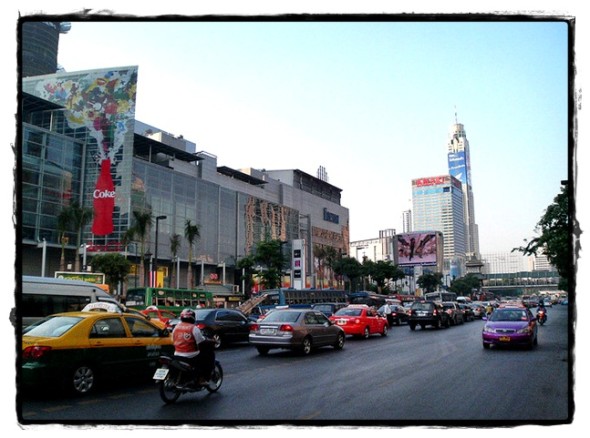 Central World Plaza – The largest mall in south east Asia has now become a mecca for crafters. At Central World Plaza, you'll find yarn shops with enormous supplies of yarn and wool, painting supplies shops, needlework and sewing shops, jewelry supply shops, scrapbooking shops and several stores selling Japanese craft books and magazines.
One of my favorite shops here is Pinn Shop, which calls itself a 'professional hobby and crafts shop'. They have a huge supply of yarn, knitting needles, and sewing supplies but what makes this place cool is the many customers hanging out knitting or sewing at the shop's comfortable sofas and chairs.
Take the sky bridge from Chidlom sky train station and it'll take you right into Central World Plaza mall – it's huge, you can't miss it.
Paragon Department Store – Paragon Department Store at Siam Paragon mall is a store that's more upscale, so more expensive than the other places I mentioned.
However, they do sell an amazing array of art supplies, crafting supplies, papers, colored tapes, calligraphy supplies, stencils, mosaic supplies, and hard to find Japanese craft supplies.
MBK – Mahboonkrong or MBK Mall has a fair number of shops on its seven floors that sell handmade paper, beads and buttons, art supplies, knitting supplies, craft paper, knitting and sewing supplies etc.
Tokyu, the Japanese department store, also has some unique Japanese crafting items including stickers and rubber stamps. MBK is next to National Stadium sky train station.
You will also find craft supply shops at Siam Square, Central Ladprao Mall, and Union Mall on Ladprao, as well as at many Bangkok area markets.