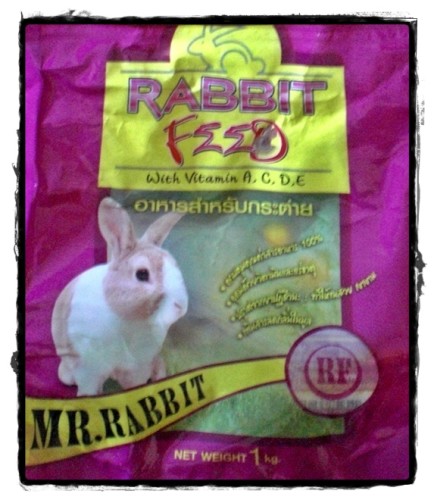 Mr. Rabbit feed is a favorite with my bunnies
Several readers who own rabbits in Bangkok like me have asked which do I think are the best rabbit pellets in Thailand, or at least which pellets do my bunnies eat and love?
That's actually an easy question to answer as, having had all my rabbits try at least seven or eight different brands of Thai rabbit pellets, I've finally settled on one brand they seem to like the most. That brand is Mr. Rabbit from RF Group, an inexpensive rabbit pellet that's available all over Bangkok at pet stores, supermarkets and, of course, at Chatuchak Market.
Where to buy Mr. Rabbit feed in Bangkok?
The easiest place to currently find Mr. Rabbit pellets in Bangkok is at most branches of the Tesco Lotus supermarket — and they are all over the city. Tesco almost always seems to have the feed in stock and, at only 55 baht ($1.68) for a kilogram, it's also very cheap.
One kilogram bag lasts my two rabbits around 10 days as they're only allowed one half cup of pellets a day between the two of them. More and they get too fat.
While Mr. Rabbit is the brand of pellets my rabbits get most days of the week, I do occasionally intersperse it with another brand just so they get a change, and that usually ends up being whichever one I see at Chatuchak that particular week.
In that case, I give them Mr. Rabbit in the morning and a quarter of a cup of the other, often even cheaper, brand in the evenings until that brand is finished. Funnily, they both do still end up eating more of the Mr. Rabbit brand than any other, as they just seem to prefer it – even when they're served it every day.
Mr. Rabbit brand of bunny pellets, by the way, also have Vitamin 1, C, D and E added, so your little guy will get some extra much-needed nutrition along with his daily portion.
Just be sure not to feed any rabbit over six months old too many pellets, as they're are not a good source of complete nutrition and, if they eat too much, your bunnies will get fat.