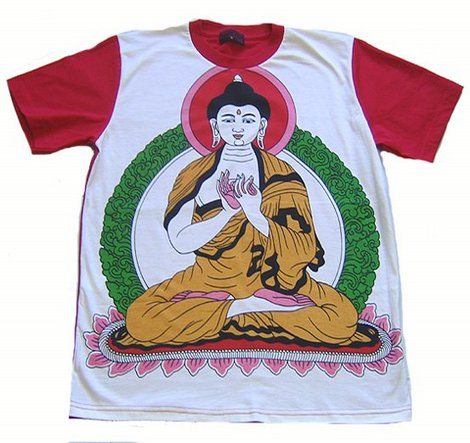 If you want to buy a cool graphic t-shirt or tee, look no further than the thousands of shops and markets in Bangkok, Thailand that sell them. Graphic t-shirts are literally everywhere in Bangkok and at prices as cheap as 100 baht ($3) you can buy ten of them and not even feel guilty.
Tees in Bangkok have trendy designs, are tie-dyed, have slogans, make political and social statements and much more.
Available all over Bangkok, there are certain stores and markets fashion-conscious Thais buy their graphic t shirts at, as they're known for not only trendy, hip designs but also great quality too.
If you too want to be in fashion, you should check out these hip graphic t-shirt shops first.
You are guaranteed to find a tee you absolutely love.
Chatuchak Market – Located next to Mo Chit sky train station and Kamphaeng Phet underground station, Chatuchak Weekend Market is the largest outdoor market in south east Asia. With more than 15,000 stalls, you can guarantee buying hip graphic t-shirts is easy here.
In fact, Chatuchak is the place to buy graphic t-shirts. There is a whole section of the market set aside for shops selling independent artsy t shirts, political statement t-shirts, Thai-brand t-shirts, girly t-shirts, men's fashion t-shirts, appliqued, embroidered and hand-printed t-shirts. They also cater to teenagers and young adults and have thousands of designs. Prices start at 100 baht ($3) for a printed tee and go up to 350 baht ($10.25) for a hand silk-screened one-of-a-kind tee.
Related: What to eat at Chatuchak Market — the food is amazing
Chatuchak Market also has an excellent second-hand clothing section where you can find lots of vintage tees from the 70s, 80s and 90s. With prices beginning at 100 baht, you will find t-shirts at these vintage shops you haven't seen for years.
Pratunam Market – Pratunam Market has tons of tees and, because this is a wholesale market, the more you buy the cheaper they are. Pratunam Market specializes in Thai brand t-shirts, with Japanese-style designs from Thai companies like Ronin.
Related: Where to shop for the best bargains in the Pratunam area of Bangkok, Thailand
The best way to shop at Pratunam is to buy three tees or more from the same seller, as you'll get up to a 50% reduction in price on each tee.
Pratunam Market is just a short walk down the street from Central World Plaza Mall in Bangkok and is one of the best wholesale markets in Bangkok. It's a bit difficult to find as it's down a few teeny sois, so ask a local if you get a lost.
Baiyoke Tower – At 130 Rajprarop Road in Bangkok, Baiyoke Tower is just around the corner from Pratunam Market. In the basement of the tower and on the first few floors, you will find hundreds of graphic tee shops all selling at wholesale prices. At Baiyoke Tower, you'll find t-shirts that sell for 300 baht elsewhere in Bangkok as cheap as 100 baht but, just like Pratunam, you need to buy three pieces or more to get a good deal.
Bangkoker – Another trendy Bangkok graphic t-shirt shop is Bangkoker.
Run by a Thai architect, Bangkoker specializes in slogan t shirts and Indochine and Buddhist designs. Prices start at 300 baht. The really cool thing about tees from Bangkoker though is, for a higher price, you can design your own and they'll print them for you.
Located on Samsen Road in Pranakorn area of Bangkok.
Terminal 21 – Terminal 21 mall has many small boutiques and t shirt shops on each floor, and quite a number sell t shirts.
Related:  Terminal 21's food court is still the best and cheapest food court in Bangkok
You will find t shirts made by local fashion companies, hand-painted shirts from indie Thai designers and a whole range of shirts you will not see anywhere else. Stock changes often too so, on every trip, you will find something new.
Terminal 21 is located right next to Asoke BTS skytrain station.