Thais love buying the latest gadgets and that means, if you are looking for a new MP3 player or iPod in Bangkok, Thailand you're in the best place.
With the usual MP3 brands you're used to, plus many Asian brands you've never heard of, and a huge choice of new and used MP3 players and iPods, if you don't find what you need in Bangkok, there's something wrong with you. With literally hundreds of places to shop at, however, start off at these best places. You are sure to find what you need.
Mahboonkrong (MBK)- Mahboonkrong Mall, or MBK, is the place where most Thais start out looking for an MP3 player or iPod.
The fourth floor is where you should head, as it's nothing but a couple of thousand market-style stalls selling cell phones, MP3 players, iPods, DVD and CD players. Here you will find MP3 brands like Samsung, Creative, Sony, SanDisk, RCA, Soken and more. Apple iPods too are everywhere, with many stalls selling both new and used iPods at extremely reasonable prices.
Be warned, though, MBK stalls also sell a lot of counterfeit MP3 players and even knock-off iPods. Most sellers sellers are honest, however, and will tell you if it is a knock-off item or not so you decide if that is what you want. Plus, if it's a brand new product, it should come still sealed in a box and with the genuine warranty and guarantee.
At MBK, you will find everything from cheap low-end products right up to top-of-the-line MP3 players, and of course all the accessories that go with it. You'll find MBK right next to National Stadium sky train station.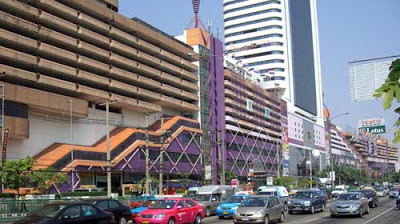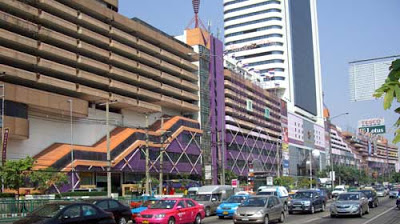 Fortune Town Mall – My favorite place to shop for any type of electronic in Bangkok, is also the place where I bought my MP3 player. A massive electronics and IT mall, Fortune Town Mall has three enormous floors full of electronics and IT shops.
At Fortune Town Mall, you'll usually find the sellers are friendlier than at MBK (who seem to be used to rude westerners, so often aren't thrilled at seeing another one) as it's a predominantly Thai mall with few tourists knowing where it is.
Like MBK, there is a wonderful selection of MP3 players and accessories and new and used Apple iPods. Make sure you walk around for a while and compare prices and, of course, bargain as most sellers will come down in price on many of their products.
Here you will also find many shops selling MP3 files on CD, so once you've bought your player why not stock up on some new music for it while you're here.
For a disk carrying over 100 songs, you'll usually pay around 60 baht or $2. Fortune Town Mall is next to Phra Ram 9 underground station.
Siam Paragon Department Store – One of the largest electronics departments in Bangkok is in Siam Paragon shopping mall's enormous department store. Prices here are, of course, high so don't expect many bargains but if you're looking for a good selection of items, well-trained staff who speak good English and some cool and trendy accessories, Siam Paragon is a fun place for MP3 players.
Apple iPod Stores – Of course, like most other major cities in the world, Bangkok has a number of Apple iPod stores, where you can buy all the latest releases.
One of the nicest stores is in Siam Discovery, not only because the store itself has a good selection of items but also as it's not as busy a mall as some others, so you don't feel rushed when you're trying to make a decision.
Also check out the Apple iPod store at Siam Paragon mall next door, it's very high-tech and glitzy but always packed so it can take a while to attract a salesperson's attention, or walk down the street to the one at Central World Plaza.