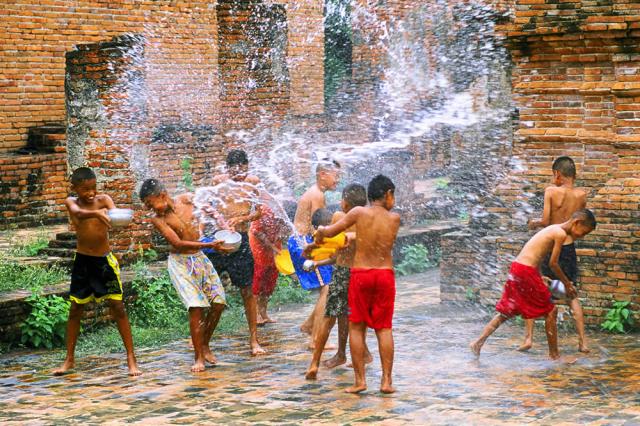 One of the best things about Thailand is the many festivals that are held in the kingdom every year. Every month, there's a festival somewhere in Thailand that's fun and often unusual too. If you're planning on coming to Thailand, make sure you coincide your visit with one of these Thai festivals. You'll learn a lot about Thai culture, meet tons of Thai people and just generally have a great time.
January
Thailand starts off the New Year right with big New Year Countdown's all over the country. In Bangkok, the best place to celebrate the New Year is the New Year Countdown at Central World Square, near Chidlom sky train station. Festivities usually start just before Christmas and go straight through to New Year's Day. New Year's Eve is the best time though with live music, dancing and beer gardens and all of it shown live on national TV.
February
Phuket International Blues Rock Festival is the festival to go to in Thailand in February. The festival usually runs over two nights and features 12-15 live blues bands, some from Thailand and some from the United States and Australia. If you love blues, you'll love the Phuket Blues Rock Festival as it's a great mix of live music, Thai food and lots of dancing.
March
World Thai Martial Arts Festival – Thailand is, of course, the home of Muay Thai, otherwise known as Thai kickboxing. In March every year, the Muay Thai Federation holds the World Thai Martial Arts Festival in Ayutthaya, just over an hour north of Bangkok.
Throughout the three day event, there'll be Muay Thai fights with the winners of each level receiving the championship belts. Muay Thai festivals are always interesting because of all the ceremony that goes into a Muay Thai event – you'll get to see the special Wai Kru (ceremony for the teachers) as well as the traditional Thai musical instruments and costumes that have been used in this sport for hundreds of years.
April
Songkran Festival – The most famous festival in Thailand is the Songkran Festival or Thai Water Festival. Every year, for three days, Thailand is awash (literally) with water. Every time you leave your hotel or apartment you'll have water poured over your head, hose pipes turned on you and kids running up to you with water pistols. Get into the fun, buy a water pistol and fight back!
Songkran is the time to wish people a Happy New Year as Songkran is the Thai New Year and Thais use water to bless their family and loved ones and wish them well for the coming year.
May
Bun Bang Fai Rocket Festival – Held in the town of Yasothon every year, the Bun Bang Fai Rocket Festival is famous all over Thailand and is incredibly good fun. There's parades, dancing, live music and food and, on the third day of the festival, homemade bottle rockets are set off during the Rocket Festival. The rockets are actually supposed to persuade the gods to make it rain so that it will help with the harvest season. Kids especially will love the Bun Bang Fai Rocket Festival
June
Hua Hin Jazz Festival is one of the most famous festivals of the year in Thailand. Jazz musicians from all over the world come to the resort town of Hua Hin to play in this festival, which goes on for three days. Hua Hin is also fun because it's a lovely seaside resort, it has wonderful seafood and, most importantly, it's the home of the King of Thailand.
July
Hua Hin Regatta – In Hua Hin for the second month in a row, the Hua Hin Regatta is world famous. Sailors come from all over the world to sail in the Hua Hin Regatta with 270 sailors from more than 15 countries taking part. Sailing teams from Thailand, Australia, England, New Zealand, Indonesia and Denmark will be some of the ones taking part. The King of Thailand is also an avid sailor, which is why the Hua Hin Regatta has always been held in his honor.
August
Bhumibol Dam International Mountain Bike Championship – Held in the beautiful province of Tak, the Bhumibol Dam International Mountain Bike Championship is not only a mountain bike competition. It's also held to encourage people's awareness of environmental issues and to get people to leave the more touristy areas and visit the areas in Thailand that many people never travel to. Tak is on the border of Burma around four hours away from Bangkok and it truly is a beautiful area. So, visit Tak for the Mountain Bike Championship, then stay on and see the area's sights.
September/October
Illuminated Boat Procession – Nakhon Pahnom in Isaan hosts the Illuminated Boat Procession every year at the end of Buddhist Lent (which is either in September or October, depending on the calendar each year). Area groups, schools, temples and more decorate boats with lights, candles, flowers and fireworks and these elaborately lit boats all float in a long procession on the Mekhong River. The procession also includes cultural events, parades, dancing girls and, of course, lots of food. The Illuminated Boat Procession is one of the most beautiful Thai festivals each year, so don't forget to bring your camera to take tons of photos.
Phuket Vegetarian Festival – Not just a vegetarian festival, the Phuket Vegetarian Festival held in October every year is an event of mass body piercings, hot coal walking, climbing on ladders made out of blades, and sacred rituals. Most Chinese Thais during this period (the festival runs for three days but the period for cleansing of the body is actually 10 days) will eat vegetarian food in order to make merit to their temple.
November
Loy Krathong – Thailand's second biggest festival after Songkran, Loy Krathong is held all over Thailand where there is any body of water – rivers, streams, canals, lakes, the ocean. In all of these places you'll see krathongs (little boats) made out of banana leaves or coconut shells and holding flowers, candles, food and money. These little boats will be set afloat on water and kids will jump into the water after them to collect the money from the boats before they sink. The boats are set afloat at night and, all lit up, floating down the river, they're just lovely. Bangkok and Sukothai are the best places to celebrate Loy Krathong and Sukhothai really goes all out with cultural events and actors and actresses in elaborate traditional Thai costumes, acting out scenes from Thai history.
December
His Majesty the King of Thailand's Birthday – The King of Thailand is revered by all Thais as almost a living God so, on his birthday, Thais all over the country join together to celebrate. One of the nicest places to celebrate is near the Grand Palace in Bangkok. Sanam Luang is a large park area and over 100,000 people come together here to listen to live music, eat great food, give alms in an alms ceremony and join in a candle light ceremony to wish the King a happy birthday.