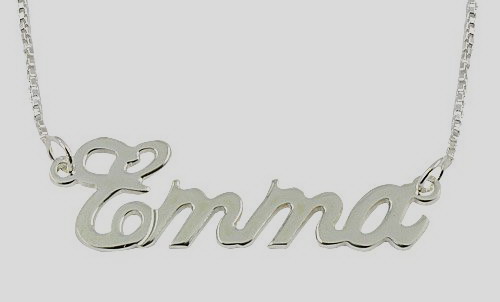 One great thing about shopping in Bangkok, Thailand is all the beautiful jewelry you can get for a cheap price. That includes personalised name necklaces which, if you bought them back in the UK or the US, would cost far more money than they would in Bangkok.
Personalised name necklaces have been in fashion for a while and, no wonder, they're lovely.  However, some people don't like to wear their name around their necks as they worry about privacy, which is why buying a personalised name necklace in Thailand that's a bit more unusual than just your given name can be the right choice for you.
Think about it. You could wear a personalised name necklace with the nickname your friends use, the cute name your dad calls you, or the name your boyfriend uses when he's saying he really loves you. After all, wearing a personalised name necklace that actually means something more than just your given name, is more than just a little sexy.
You can stretch that idea even further and buy your mum a personalised name necklace with the name your dad has used for 30 years, or your boyfriend a necklace with the name you call him when you're telling him how good he is in bed. On the last one though, just make sure it's not too dirty. You might think it's smashing, but his friends may make his life unbearable.
You'll find personalised name necklaces in Bangkok, Thailand at jewelers and market stalls at Mahboonkrong (MBK) Mall, Central Ladprao Mall, Union Mall, Fashion Island and a thousand other places. Expect to pay no more than 200 baht ($7) for a necklace that's personalised with any nickname or given name you want.