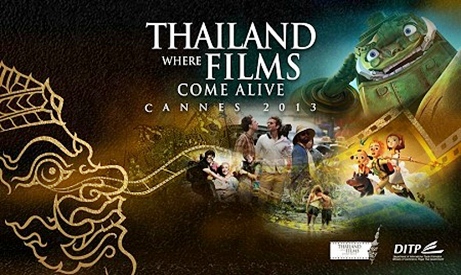 While, normally, there's at least one Thai movie being entered in the Cannes Film Festival each year, this year there are none. So, it's faintly surprising that the Thai Cannes Night is going ahead as normal — an event that usually celebrates Thai movies and all the unique things they offer. Called "Thailand, Where Films Come Alive", it will definitely be happening and, if all goes well, it could actually be very successful for Thailand.
That's because the Thai organizers of the Cannes Thai Night 2013 are using the event to promote Thailand as a place where movies can be filmed and, of course, filmed beautifully. With so many successful movies filmed in Thailand in the last few years, an event like the Thai Cannes Night 2013 could just persuade a few more international directors to shoot their films here. And, with them, of course, comes money.
To that end, a movie made in Thailand Only God Forgives (starring Ryan Gosling, Kristin Scott-Thomas, Yaya Ying and Vithaya Parnsringarm), and which is one of the movies officially entered in the festival, will be one of the films highlighted during the Cannes Thai Night along with several Thai offerings.
The Cannes Thai Night 2013 – Where Films Come Alive has been organized by the Department of International Trade Promotion, and will be tonight, Saturday May 18th, at 6pm.
Finally, if you're looking for other movies made in Thailand to watch, I highly recommend picking up a few at ethaicd. They have an amazing selection of classic and newer movies made in Thailand and, even with international shipping, their prices are still cheap.