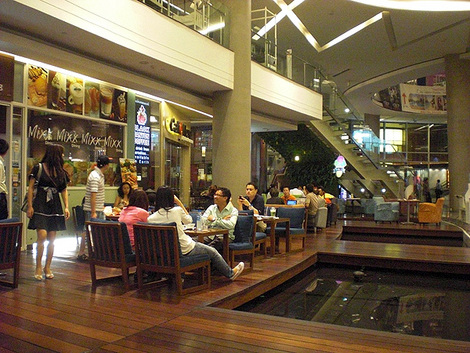 Esplanade Mall in Bangkok, Thailand is a smaller mall than many of the mega malls in the city but what it lacks in size it makes up for in selection of shops, restaurants and cafes. I just returned from a wonderful evening at Esplanade with a Thai friend, where we ate, shopped, had dessert and even bought groceries – and all for not that much money.
Location of Esplanade – Quite easy to get to, Esplanade is located on Ratchadapisek Road, just a few underground stations north of the main Sukhumvit station. The easiest way to get there is to take the underground train to the Thailand Cultural Center station, follow the signs for Esplanade and walk the two blocks down Ratchadapisek to the mall.
Atmosphere at Esplanade – Modern both inside and out, the first thing you notice when you enter the mall is a row of incredibly cool cafes. With terrace-style seating, but in the mall itself, built onto hardwood decks overlooking small indoor pools, they really are pretty. There's a Starbucks, a Coffee World, a Caffe Nero and several others, all in a line overlooking the main floor of the mall – a perfect place for people watching.
The rest of the mall is built in a futuristic, space-ship kind of style with seven floors of mezzanines overlooking the enormous ground floor below. With an impossibly high roof, the whole atmosphere is one of incredible space and light.
Shopping at Esplanade – Shopping at Esplanade includes three floors of stores, comprised mostly of small boutiques, pharmacists, jewelry shops, health and beauty shops, lifestyle stores and small kiosks selling gift items. There's a large B2S book store, Nike, Puma, Rolex and more.The small boutique clothing stores are fun places to shop as you'll find clothing you won't see anywhere else with prices that are quite affordable.
Restaurants and Food at Esplanade – The food selection at Esplanade is where the mall shines. In fact, I've never seen so many restaurants together in one mall, anywhere. Restaurants include Swensen's, MK Restaurant, Ootoya, Hachiban Ramen, Lee Cafe, Viet Cuisine, Spice Road Japanese Restaurant, Bua Thai,See Fah, Fuji and many more. With choices of Thai, American, Vietnamese, Japanese and Korean food, everyone will find a place they love to eat at Esplanade.
Cafes also abound at Esplanade with Starbucks, Coffee World, Kaldi Coffee, Whittard of Chelsea and Caffe Nero to name a few. And don't forget desserts – Iberry Ice Cream, Mister Donut, Red Mango frozen yoghurt, a cheesecake shop, several pastry places, a shaved ice stall, Famous Amos cookies, Baskin Robbins and on and on. If you love desserts, you can even do what my friend and I did. We shared a slice of cheesecake at the cheesecake shop, a frozen yoghurt and fruit sundae at Red Mango and two scoops of ice cream at Iberry. Absolutely perfect.
Esplanade has more than 100 restaurants, cafes and dessert shops and all reasonably priced
Once you've finished dining, dessert and coffee don't miss grocery shopping at the Tops supermarket on the basement floor. This Tops sells an incredible array of imported groceries from the UK, America, Australia, Japan, Korea and Vietnam. They have an excellent bakery, a fresh dim sum shop, a Secret Recipe cake shop and even a food court serving inexpensive lunches and dinners. Prices for many of the imported groceries were slightly cheaper than other Bangkok supermarkets and, if you apply for a Tops card, it's even cheaper.
Entertainment at Explanade – Esplanade is popular for entertainment as it has one of the largest movie complexes in Thailand with over 3,000 seats. First-run movies show in the movie complex and the World Film Festival of Bangkok has also been held there in the past.. There's also a world-class bowling alley and a 2,000 square meter ice skating rink, one of only two left in the city.
The next time you're out shopping, give Central World Plaza and Siam Paragon malls a miss and try Esplanade. Grab coffee at one of the superb cafes, lunch in the basement in a cool restaurant, see a movie, go bowling, get your groceries then grab an ice cream on your way out. What a wonderful day that would be.