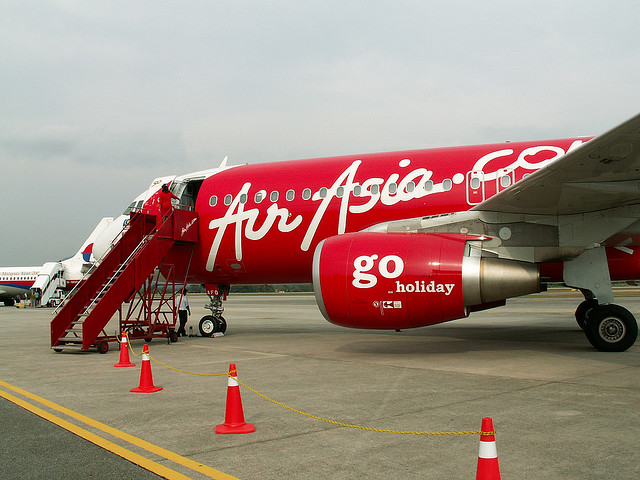 One of the best things about living in Thailand is cheap airline travel, both domestic and international. Since deregulation a few years ago, Thailand now has many choices in airlines, so flying anywhere within Thailand, or to countries close by,  can usually be done for around $75 to $200. I recently flew round-trip from Bangkok to Chiang Mai for $75 – an amazing deal any way you look at it.
If you are coming to Thailand and want to take a domestic flight, what airline choices will you have and which airlines are the best?
Thai Airways – The most well-known airline in Thailand and internationally, Thai Airways is known as 'the best'. Many Thais though avoid flying with Thai Airways as they are always the most expensive way to fly anywhere within Thailand (and internationally too!), and have a reputation of not being particularly polite or helpful to Thai people.
You can of course fly within Thailand on Thai Airways but my recommendation would be to avoid them. Their tickets are over-priced, airline food (included in the ticket price) is not very good and the staff not too polite. Thai Airways flights always have an arrogance about them, to me, like they think they're the best so they don't even have to try. Unfortunately that's not true and there are many other options.
Air Asia – The airline I still consider to be the best airline in Thailand, Air Asia offers budget travel to most major cities in Thailand as well as to Malaysia, China, Singapore, United Kingdom, Brunei, Australia,
Laos, India, the Philippines and Vietnam. To get a good deal on Air Asia, you must book well in advance as prices go up drastically as the cheaper seats disappear. I have flown to Phuket round-trip on Air Asia for as cheap as $50 and to Malaysia round-trip for less than $100, so there are plenty of great deals if you check in advance.
Air Asia's flights are basic, but planes are nice (mostly new!) and the staff is always very helpful and friendly. Food is not included in the price of the ticket but they have many food choices on board, both hot and cold, and at between $1 and $2 per item, prices are great. The one drawback with Air Asia is their flights are always delayed.
I've only ever flown once with them where the flight was on time, but they do make up a lot of time in flight so you don't land too late, most of the time. One thing to be aware of, Air Asia advertises cheap flights but, when you go to their website, you'll see they don't include taxes and surcharges that can almost double the fare. Overall though, I do recommend Air Asia as their flights are cheap and they're a reliable airline.
Bangkok Airways – Another of the smaller, budget airlines, Bangkok Airways flies to 20 cities in Thailand as well as to Cambodia, Burma, Singapore, Japan, Vietnam and Laos. Most of its flights however are within Thailand and especially to places like Koh Samui, Trat and Sukhothai where they have a lock on the airports as they built them.
They also have a Flyer Bonus Club, where you can receive points for flying and thus exchange for free flights, and which will also give you entrance to their boutique lounges at the airports they fly in and out of. Bangkok Airways is a reliable airline that has received several awards for best regional airline but, again, be warned, their advertised flights don't include taxes and surcharges that increase the fare markedly.
Nok Air – A budget airline in Thailand that's owned by Thai Airways, they were quite a strong competitor to Air Asia until last year when they started to have financial problems. Because of this, they had to drastically cut their flights, which impacted their financial problems even more.
At this point, if things don't improve for them, they're not likely to stay in business longer than the end of the year, especially with the reduced number of tourists expected because of the latest political crisis in Thailand.
PB Air – is a small airline that only travels to seven destinations within Thailand but it's quite good value for money and the staff is incredibly friendly. They also just started a route to Vietnam, so are branching out a little bit. They cannot compete with airlines like Air Asia and Bangkok Airways though so it will be interesting to see if they survive long-term.
One Two Go – One Two Go was one of Thailand's most popular budget airlines until they had a disastrous crash in Phuket, Thailand where 90 people were killed. Pilot error was discovered as being the reason for the crash. The airline stopped operating for several months after, and only recently started flights again.
Their current flights are cheap and offer free food, free check-in baggage and a lot more but they have not been honest about the crash and no crash report has ever been released. At this point, One Two Go is an airline to avoid, until they start taking the crash and their response to it seriously.
If you're planning on taking a domestic flight in Thailand or to any of the countries nearby, many of these airlines are good choices. They offer cheap flights, nice staff, reliable service and you can book online for all of the airlines, so they're easy airlines to purchase tickets on.
Photo – Auswandern Malaysia, Creative Commons License