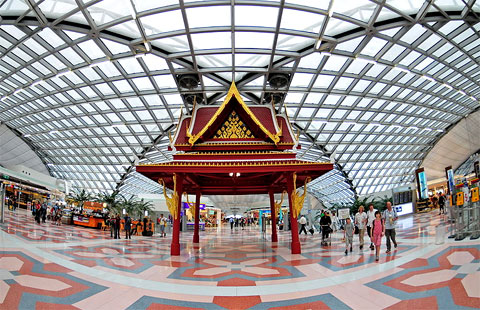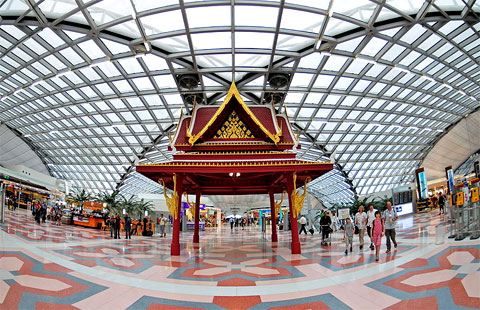 As a long-term resident of Bangkok, Thailand, I fly in and out of the country's main airport, Suvarnabhumi, every couple of months. What I think is a dismal airport compared to other similar airports in the region, Suvarnabhumi has actually been voted by tourists to Thailand as one of the world's best. But, one thing many people complain about is how terrible Suvarnabhumi Airport's free internet access is. It's not accessible everywhere, it's slow and it's a hassle to get connected, and here's why.

Internet Access at Suvarnabhumi – Unlike most other large airports in south east Asia, Bangkok's Suvarnabhumi Airport has the worst free access to the internet. it's not easy to connect to, it's slow and, if you're using your own laptop, it requires a sign-in process most other airports simply don't ask for.
If you're lucky enough to have a membership at one of the airlines' private lounges, the internet access is fast and reliable but, if you're a basic traveler like most of us are, Suvarnabhumi's free internet access can be frustrating. (If however, you hang around outside some of the airline lounges, some don't always require passwords and it is occasionally possible to piggy back onto their service. Of course, access isn't not reliable though).


You Have To Sign Up For Internet Access At Suvarnabhumi – In the past two months, I've traveled through Kuala Lumpur's KLIA and LCCT airports and through Hong Kong, and all three airports provide fast, free Wi-Fi internet you can hook up to anywhere and anytime. With no sign-in necessary.
At Suvarnabhumi Airport in Bangkok, unfortunately, if you're using your own laptop, you can't simply turn it on, search for internet access points and get online. Instead, you have to find an airport information desk and ask if you can access the internet, then be given a password. Before they will give you a password, you must sign your name, give your passport number and your flight number. I found this completely invasive, when all I needed was 15 minutes of free internet, so both myself and the friend I was with made up names, passport numbers and flight numbers. It's not like they check.
Once signed in, the girl at the information desk gave us passwords to access the internet and off we went to find a comfortable spot to do so.
The Internet Signal At Suvarnabhumi Airport – The internet signal at Suvarnabhumi is intermittent at best and completely inaccessible in many areas of the airport. We moved around a few times until we found seats at one coffee shop, where we could grab a coffee and get online on the airport's free internet system. Once online, the speed was slow and it stops and starts often.
In fact, if you absolutely must have fast internet, I'd suggest asking at the information desk where the paid internet shops are, as the speed of the free internet at Suvarnabhumi really is pathetic.
Free Internet Kiosks – Suvarnabhumi Airport was trumpeting its success a couple of years ago, when it announced 126 new internet kiosks would be set up all over the airport for free use by passengers. Yes, the kiosks were set up, but with the massive size of the airport, it's nowhere near enough kiosks and some of them are difficult to find.
You'll find the free internet kiosks mostly at the gates in the departure lounge (so no relaxing with a cup of coffee and the internet here). They have uncomfortable high stools to sit at and you're limited to 15 minutes, after which time you're automatically disconnected.
The last time I went through Suvarnabhumi Airport, of the two free internet kiosks at the gate I was at, one was out of order and the other one had such a large line of people waiting there was no way I was going to be able to get online before my flight took off.


Should You Rely On Getting Internet Access at Suvarnabhumi? – Absolutely not. Suvarnabhumi's free internet access is the worst in south east Asia.
In fact, I would recommend, if you know you need to get online before your flight leaves, either pay at one of the two internet shops at the airport, which do have fast internet but it's expensive (100 baht – $3.25 for 20 minutes), or do your internet business at an internet cafe in Bangkok before you arrive at the airport.
Unfortunately, in many respects, Suvarnabhumi Airport still hasn't arrived in the 21st Century and having free, high-speed, reliable internet access is one big reason why.