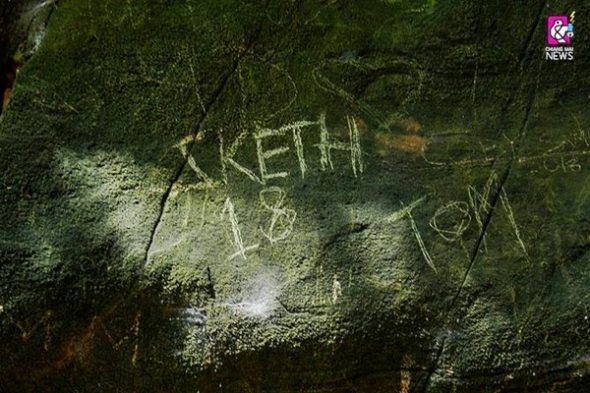 Yes, writing graffiti in Thailand on public property could put you in a Thai prison
As a westerner who has lived in Thailand for the best part of 16 years,  it makes me angry to see the news stories lately of foreign idiots coming to Thailand and then spending their time in this beautiful country writing graffiti on cave walls and on historic city walls.
A few weeks ago it was a Canadian and a Brit that were arrested, and charged with public mischief and damaging public property, after they got drunk and wrote graffiti on the 13th century wall of Chiang Mai's historic Tha Phae gate.
The pair now face 10 years in prison and a 1 million baht fine, which is currently equivalent to approximately $31,250.
But, as foreign idiots don't seem to learn from the demise of other foreign idiots, the latest incident being reported of graffiti in Thailand is that found this week on the walls of a cave in the Doi Suthep–Pui National Park.
In that cave, the non-Thai names Sam, Louise, Muns, Tom and Sian were scratched into the wall of the cave.
Unlucky for the people who did it, however, as if they are caught  and found guilty Thai police are saying they will be imprisoned and fined.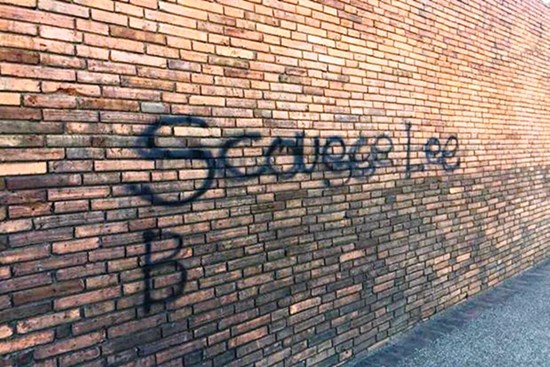 Graffiti in Thailand — is it acceptable?
So, just in case you also plan to come to Thailand to deface some of the country's property with your ugly graffiti, here is what you need to know.
Graffiti is not legal in Thailand in any shape or form. Not unless you have permission from the person that actually owns the wall you plan on spray painting or scratching. Or not unless it is for a public graffiti competition in which you are legally entered.
If you decide, however, that the rules and laws don't apply to you when it comes to graffiti in Thailand, here is what you can expect if you are caught.
a) Immediate arrest.
b) Charges will be pressed and, as graffiti by foreigners in Thailand is a big news subject at the moment, you can expect to not be treated leniently.
Instead, there is a very good chance you will be given at least a 10 year prison sentence if found guilty, plus fined tens of thousands of U.S. dollars as a punishment.
Time in an overcrowded, poorly equipped Thai prison is hot, uncomfortable, can be dangerous and is definitely not very nice.  It will also not afford you many of the rights you are used to in your own country. I would not recommend it.
c) Your name and that of your family splashed all over every newspaper in Thailand, and in hundreds of newspapers overseas as they also pick up the story.
d) Being banned from entering Thailand for the rest of your life once your prison term is completed.
In other words, spray painting, painting or scratching any kind of graffiti in Thailand anywhere that is not legally allowed could be life changing for you. And not in a good way.
So, don't be a foreign idiot like the other foreign idiots that thought they were above the law in Thailand. Instead, have some respect, treat Thai property nicely, don't get drunk and enjoy your vacation.