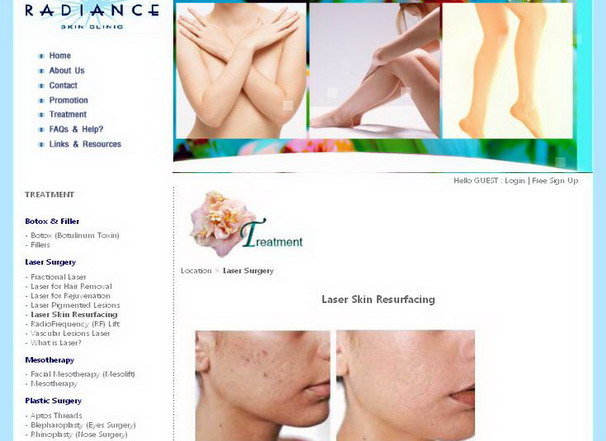 Laser skin resurfacing in Bangkok, Thailand has become just as popular a cosmetic procedure in the last few years as tummy tucks and boob jobs.
In fact, so many people now fly into Thailand from overseas on medical tourism trips for laser skin resurfacing, more and more Bangkok hospitals and clinics are offering it.
If you are considering having laser skin resurfacing done in Bangkok, even though it is just as safe and effective as in any western country, before you do there are a few things you should know.
What Is Laser Skin Resurfacing? – It is a procedure that uses a carbon dioxide laser to remove top layers of your skin, along with the imperfections you have, and to reduce wrinkles. It is also used to get rid of acne scars and sun damage and, yes, it does work.
Laser Skin Resurfacing Better than a Chemical Peel?– Many doctors recommend laser skin resurfacing over a chemical peel as it causes the patient less discomfort, your skin heals quicker, and it rarely bleeds. Unlike a chemical peel, which can make you look unsightly, your face puffy and takes days to recover from.
Where Can You Get Laser Skin Resurfacing in Bangkok? – Many hospitals offer laser skin resurfacing —Samitivej Hospital, Chaophya Hospital and Bumrungrad International Hospital being just three of those that do — but so do a huge number of licensed clinics.
Two of the most popular and very reputable clinics offering laser skin resurfacing in Bangkok are Radiance Skin Clinic and Yoskarn Clinic. They both use state of the art technology, and also offer other cosmetic procedures besides laser skin resurfacing.
Give them a call (phone numbers on their websites) or shoot them an email for current prices on laser skin resurfacing in Bangkok.
You can also find more information about hospitals and clinics offering laser skin resurfacing in Bangkok and other areas of Thailand at Health Tourism.