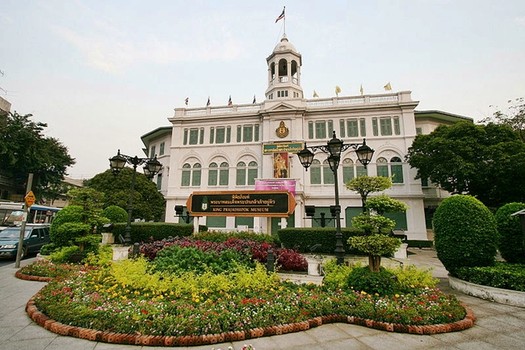 The King Prajadhipok Museum in Bangkok, Thailand isn't visited by non-Thais often. It's a shame really, as it's one of the most fascinating museums in the city.
That's because King Prajadhipok, known by Thais as 'Rama VII', was the last absolute monarch in Thailand, before a military coup in 1932 took over the Ananda Samakhom Throne Hall, arrested the king's sons and demanded the monarchy be changed to a constitutional one.
King Prajadkhipok agreed and so began Thailand's constitutional monarchy, a monarch that still exists in the 21st century, and is beloved by all Thais.
The King Prajadhipok Museum and Its Contents
The King Prajadhipok Museum is in Pom Prap Sattru Phai district in the middle of downtown Bangkok, so easy to get to by taxi.
It is located in a gorgeous Thai mansion, and features three floors of Thai history, but is especially interesting for the personal belongings of King Prajadhipok and the history of the king from his birth until his abdication in 1935.
You'll see exhibits about his early life, education and marriage. There are lovely photographs of his investiture, and ceremonies he officiated over during his time as king. Later photos and information include all the houses and palaces he lived in during his lifetime, as well as his time spent in England after his abdication. The coverage of the king's cremation in 1941 is particularly moving.
Don't miss too the screenings of some of the movies the king himself made. He was an avid moviemaker and wrote and filmed many films over his lifetime, some of which the museum has in their collection.
Cost of admission
The museum is free of charge, which is not always usual for Thai museums where non-Thais are often charged much more than Thais.
If you are one of the few non-Thais who read and write Thai, you can also use the research center, which holds various books and other publications about the monarchy and Thai history not available anywhere else. This also is free of charge.
How to Get to the King Prajadhipok Museum
Hailing a Bangkok taxi, of course, is one of the easiest ways to get there, and they're available on every street in Bangkok.
However, if you'd prefer to travel by bus and experience the typical Thai way of getting to the museum, you can take a 2, 15, 44, 47, 59, 60, 169 non-air-conditioned bus (they're actually quite cool if traffic isn't too bad and they're moving, as air flows freely through the open windows), or a number 511, 512, 79, 44,157,183 air-conditioned bus.
Opening Hours
The museum is open every day, except Monday, from 9am to 4pm. It's closed for the entire Songkran holiday period and occasionally for other Thai holidays, as well as over the New Year period.
To find out a little more about the King Prajadhipok Museum, check out the museum's website, although do be aware most of the information is in Thai.
You'll find the museum at 2 Lanluang Road, Somanas, Pom Prab Sattru Phai in Bangkok.