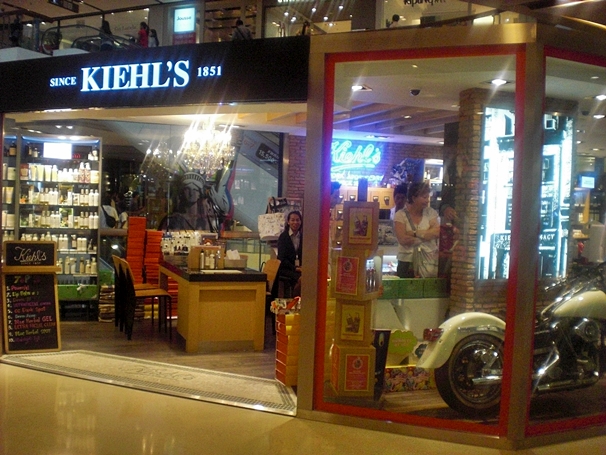 Kiehl's, the American cosmetics, hair and body products store, has been in Thailand for about five years now.  Owned by L'Oréal since 2000, they've been quietly expanding throughout Asia with fives stores that I know of in Bangkok – Central Ladprao, Siam Paragon, Siam Center, The Emporium, and Suvarnabhumi Airport. I have to say, although the design of their stores is enticing and I've bought Kiehl's products before, it's highly unlikely I'd ever buy them in Bangkok. Why? Simple. The incredibly expensive prices.
Sure, Kiehl's products are nice. They're made from relatively natural products, their packaging is simple yet chic, and shopping there is fun as they give away free samples. But…..when I step into Kiehl's and see face creams priced at over 1,500 baht ($50 each), eye shadows at 1,000 baht ($33.30) and shampoos at 850 baht ($28), I just can't fathom spending that kind of money. Not in Bangkok, Thailand.
In Bangkok, I buy mainly Thai hair, skin and beauty products. Products that are just as natural as Kiehl's, smell just as nice and, quite frankly, are packaged in much prettier packages. Yet, where a Kiehl's bottle of rice and wheat shampoo is going to cost me 850 baht ($28) a bottle of a Thai brand of similar shampoo, also made with natural products, is between 40 and 100 baht ($1.22 to $3.30), depending where you buy it. And yes, the Thai brands are just as effective as the ones I've bought before at Kiehl's.
Of course, in Thailand, the more affluent Thais seem to think buying American or European beauty products is better than buying Thai brands. Sadly for them and the money they waste, that's not true at all. They're just falling for a marketing campaign.
Plus, if you live in Thailand or are Thai, wouldn't you think you'd want to support Thai companies and buy Thai beauty products? After all, Thai women are known as some of the most beautiful in the world and most have been using Thai beauty products most of their life. So they've obviously been doing something right.
Now, don't get me wrong, I think Kiehl's products are very nice and the ones I've bought in the past I've been happy with the results. But, in a country where you can buy incredible natural products from literally tens of thousands of places, I'm just not sure why anyone would want to spend that much money on an imported brand?