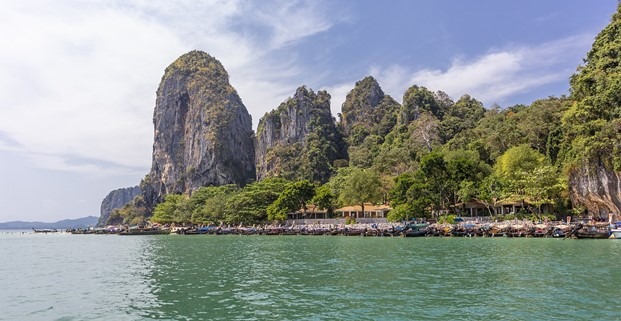 Krabi province has gone into partial lockdown including a curfew. This after Covid-19 cases began to rise in the Thai province with 84 new cases reported yesterday, and a total of 2,459 infections in the southern province.
The Krabi lockdown begins today, and will be in effect through at least September 24th.
The lockdown also means anyone who wants to travel to Krabi must have been vaccinated with at least one AstraZeneca jab at least 14 days before arrival. In addition, a negative Covid-19 test is mandatory.
Of course, like every other lockdown in Thailand over the last 18 months, this one is not likely to prevent the spread of Covid-19. The only thing it will do, as has happened everywhere else when governmental lockdowns have been implemented, is damage the Krabi economy even more than it is already damaged.
Officials insist a partial Krabi lockdown is necessary, however, along with a curfew between 9pm and 4am.
Related: 4 meter long King Cobra discovered in sewer of Krabi housing estate
This means all shopping centers, convenience stores and restaurants must close by 8pm and, even though restaurants are allowed to open, they can only seat customers at 25% of their capacity.
Of course, this also means many restaurants will remain closed as they cannot operate with such severe restrictions and still be able to make enough money to pay operating costs and staff salaries.
Other restaurants in areas of Krabi that currently have high numbers of Covid-19 cases are only allowed to offer takeaway services.
Gyms, fitness centers, sports venues, massage parlors and gaming cafes are also mandated to close again.
Meanwhile, Koh Phi Phi, which is also in Krabi province, has also self-isolated from the rest of Krabi after seven cases of Covid-19 were discovered yesterday.