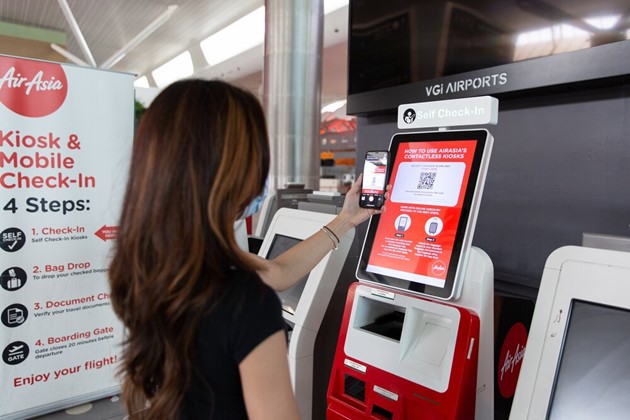 As Malaysia-based AirAsia continues to bleed money, the low-cost airline has announced new counter check-in fees for anyone who checks in at the airport.
Those fees amount to 20 Malaysian ringgit (or 160 baht) for domestic flights and 30 Malaysian ringgit (or 240 baht) for international flights.
That means, if you are traveling in a party of four, your party will pay an extra 160 Malaysian ringgit (1,280 baht) for a round-trip domestic flight, or 240 Malaysian ringgit (1,920 baht) for an international flight.
Fees will apply to any passenger who takes a flight from airports in Malaysia, Vietnam, Brunei, Cambodia, Taipei, Laos, Kaohsiung and Honolulu, Hawaii if they do not check in using the Air Asia app, website or airport kiosk.
An announcement has not yet been made about the fees also applying to flights taken on AirAsia's Thai franchise, Thai Air Asia, but chances are it will soon be forthcoming.
With AirAsia's revenue down 96% in the second quarter of 2020, the airline is trying to improve their profits going forward.
Instead of saying that, however, the airline simply states  the new AirAsia counter check-in fee is being implemented in order to ""minimize physical contact with staff during the coronavirus pandemic".
If the new AirAsia counter check-in fee is annoying to you, be aware there are several exceptions that you may fall under.
Passengers with reduced mobility do not have to pay the new AirAsia counter check-in fee. Neither do passengers traveling with an infant under 24 months of age, passengers that have schedule changes or flight cancellations, young passengers traveling alone or passengers who experience a check-in kiosk that is not working or if there are not any kiosks available.
BIG Platinum, BIG Black, Premium Flex, Flatbed passengers and Red Carpet passengers are also exempt.
The AirAsia counter check-in fee went into effect yesterday, September 1st. You can find more information on the airline's website.