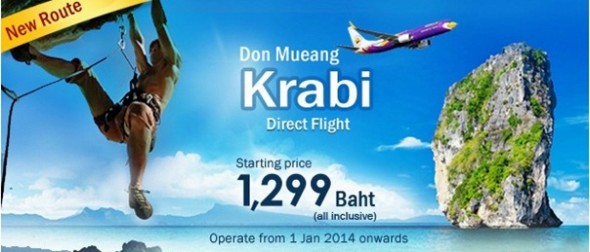 Looking for a cheap flight from Bangkok to Krabi and haven't considered flying Nok Air yet? You really should as the Thai budget airline is just about to start a new route from Bangkok to Krabi starting January 1st, 2014, and you're not going to get much cheaper flights than what they're offering.
In fact, if you book quickly before all the cheapest seats are gone, you can expect to get a Nok Air flight from Bangkok to Krabi for only 1,299 baht or $42. That price is on either of their daily flights and is all-inclusive so no nasty extra costs like some other budget airlines add.
The first Nok Air flight from Bangkok to Krabi leaves at 10:10 am from Don Mueang Airport and will get you into Krabi just an hour and fifteen minutes later. If you wish to fly later in the day, the second and last flight leaves Bangkok at 5:15pm arriving at Krabi airport at 6:30pm. They even allow 15 kilos of luggage free of charge and allow you to select your own seats.
Find out more about the newest Nok Air route from Bangkok to Krabi at the budget airline's website and, of course, book your flight there as well. But do it quickly as, it this price, these seats aren't going to last long.