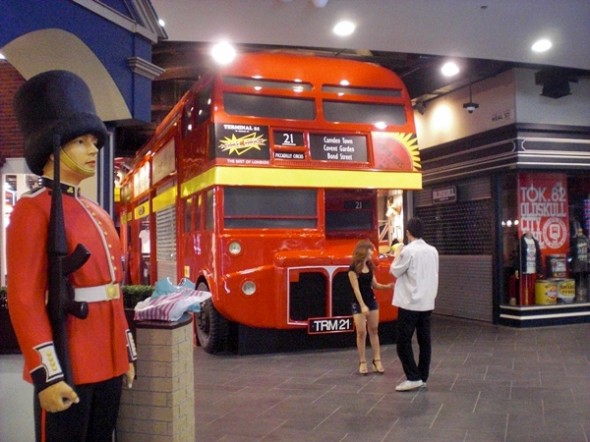 Photos of Terminal 21 in Bangkok, Thailand
One of my favorite places to shop in Bangkok, Thailand is Terminal 21. A relatively new shopping mall (it opened in 2011), Terminal 21 was designed on the idea of an airport — so it has arrival and departure gates, airport signs and, of course, each floor represents a different international city. London, San Francisco and Tokyo are represented, along with several others.
At Terminal 21, you'll find a mix of high-end international stores, Thai brands, an entire floor dedicated to independent boutiques and small market-like styles, two huge floors of cafes and restaurants and one of Bangkok's best, and cheapest, food courts.
There is also a movie theater showing the latest Thai and international movies.
Terminal 21 has a wonderful atmosphere to it. It's ultra-modern, beautifully-designed and, when even each bathroom is unique, gorgeous and fits in with the city theme its supposed to represent, you know this is one extremely unusual Bangkok shopping mall.
You'll find Terminal 21 right next to the Asok BTS train station and the Sukhumvit MRT line. Meanwhile, enjoy these few Terminal 21 photographs, so you can get an idea first hand of what it's like.