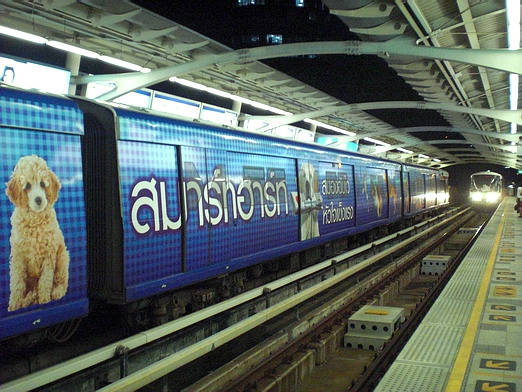 Public transportation in Bangkok, Thailand is safe, reliable and cheap. Most tourists visiting Bangkok use the sky train, underground train or boats to see the city, but end up paying full fares as they don't understand the city's discount travel cards and passes. With savings up to 30% of regular fares on trains and boats in Bangkok, why pay full price if you don't have to. Look at these Bangkok discount travel passes and cards. You'll be happy you did.
Bangkok's BTS Sky Train – One of the best forms of public transportation in Bangkok, the sky train system goes to most major areas of the city for a relatively inexpensive price. Known as the BTS (Bangkok Mass Transit), the sky train has two discount travel cards, perfect for tourists and with savings from 10-30% on each fare, depending where in Bangkok you travel and which discount travel card you buy.
Cards can be bought at the kiosk at any BTS sky train station.
BTS One-Day Pass – If you'll be traveling to various places in Bangkok on just one day, then your best bet is to buy a BTS One-Day Pass. Each card costs 120 baht (approximately $4), but with that card you can travel on the BTS all day from the first train at 6am to the last train at midnight – unlimited times, unlimited trains, unlimited destinations.
Considering an average BTS train ride is 35 baht ($1.20), then all you have to do is take four train trips during a one day period and you've already saved money. Should you be getting on and off the sky train numerous times during one day, this card is easily your best bet.
Adult SmartPass – If you'll be in Bangkok for a few days and likely to be using the sky train a lot, purchase an Adult SmartPass at a BTS kiosk.
An Adult SmartPass can be purchased for a specific number of trips – 15, 25, 35 and 45 trips – with a varying price depending on the number of trips you purchase. This card lasts for five years though so, if you'll be in and out of Bangkok several times you can buy one for 45 trips, as you'll always be able to use it.
Depending on the number of trips you purchase, each journey is a certain percentage cheaper than a regular ticket. For instance, if you buy a 15-trip pass, the cost of each trip is 23 baht (81 cents). If you pay for a
45-trip pass, the cost of each trip falls to 20 baht (75 cents) – no matter where you travel on the BTS in Bangkok.
MRT Underground Train Travel Pass – Tourists will also love using Bangkok's underground train system or MRT (Mass Rapid Transit), as it covers much of the city the BTS doesn't. The MRT also offers a discount travel card perfect for tourists wanting to save a bit of money.
MRT Period Pass – For tourists, the best card is an MRT Period Pass. These can be purchased for specific periods – 1-Day, 3-Day, 15-Day or 30-Day periods. Once you have the card, like the BTS, the MRT allows you unlimited trips on any train during the time of the Period Pass. Depending on which card you purchase and which stations you travel to, you save 10-50% or more.
Child/Elder Pass – The MRT also issues Child and Elder Period Pass cards, with special prices for children under 14 and for adults over age 65.
The Tourist Boat One-Day Pass – If you take any of the ferry boats going up and down or across the Chao Praya, they're so cheap there's no real reason for them to ever issue a tourist discount pass. With trips as cheap as 10 baht (30 cents) to travel more than 10 miles upriver or down river, you'll barely miss the money.
But, there is a special discount pass for tourists on a Tourist Boat that ferries up and down the Chao Praya River all day and it's a very good deal.
The Chao Praya Tourist Boat pass costs 120 baht ($3.75) and allows you to get on and off the tourist boat all day for the same price. Boats start at the Saphan Thaksin boat pier and go all the way up the Chao Praya stopping at 10 piers on the way there and back. The first boat leaves at 9:30 am and, from then on, they run every 30 minutes until 4pm. Your 120 baht price also gets you a free bottle of water, a map and a boat timetable, and a tour guide who will tell you all about the various sights as your boat goes up and down the river.
The Chao Praya Tourist boat is a wonderful way to see the traditional river life of Bangkok and, as you can get on and off to your heart's content, you can cover a lot of ground too.