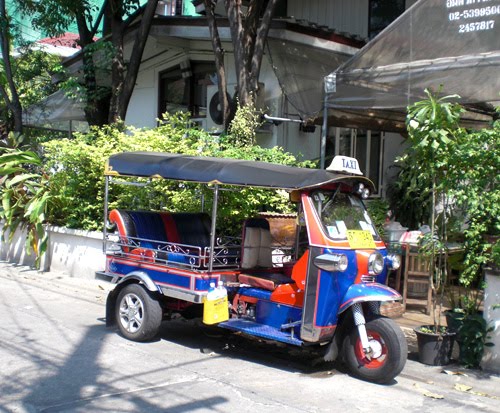 With so many types of public transportation to choose from in Bangok, Thailand, finding the right mode of public transportation for your needs can be a chore. With the skytrain, underground, tuk-tuks, taxis, buses (both aircon and non) motorcycle taxis and mini vans zipping around town, it's understandable if you feel like sitting in the middle of the street and crying. Don't. Just follow these suggestions from a westerner who lives in Bangkok and knows how confusing it can be. And you'll soon be taking public transportation like an expert.
Bangkok's Sky Train (BTS) – The best Bangok public transportation, locals call it the BTS and it travels over a wide area of Bangkok. It's inexpensive, (fares are 15-45 baht, 47 cents to $1.40), it's fast, it's easy to figure out the system and the staff are helpful. Plus it runs from 6am to midnight – every day.
There are no negatives to the sky train, except it hasn't been expanded as fast as it should have been, so large areas of Bangkok are still uncovered. For positives though, that's easy – no need to spend half your life sitting in Bangkok's horrendous traffic jams. Best station? Mo Chit, as it's next to the famous Chatuchak Weekend Market.
Bangkok's Underground Train (MRT) – Called the MRT, it covers some Bangkok areas not covered by the BTS. Fares are cheaper than the sky train (12 baht-45 baht, 37 cents to $1.40 – cheaper if you buy a stored value card), it's faster than the BTS, and it also runs from 6am to 12pm. It even connects with the skytrain at several stations throughout Bangkok, so it's simple to transfer from one system to another. It's also due for an expansion, and will cover much of Bangkok in the coming years. Best station? Lumphini – slap bang next to Suan Lum Night Bazaar.
Taxis in Bangkok – The easiest form of public transportation in Bangkok is the taxi. They're everywhere, so hailing one is fast. The average taxo trip in Bangkok is 45 to 100 baht ($1.40 to $3). You'll find most taxi drivers only speak a little English so have your address memorized in Thai or have someone write it down for you. They do however know all the tourist areas in English.
The bad thing about taxis is Bangkoks's traffic is horrendous. I've sat in taxis for two hours in huge traffic jams, so you can imagine how much that adds onto the fare! Best rule of thumb – only take taxis on weekends or on weekdays between 10am and 4pm and after 9pm. Otherwise, you'll spend a lot of time just staring out of a dirty taxi window at a standstill.
Bangkok Buses – For the cheapest form of Bangkok public transportation, you can't beat the buses. Buses are easy to take but bus conductors rarely speak English, so either memorize your stop in Thai or have it written down for you at your hotel. Buses are cheap (from 12 cents to 40 cents a ride, depending where you're going) and there's one every 30 seconds. Best way to use the Bangkok bus system is to buy a bus map at a local bookstore or 7-11. They tell you which number of bus will go where – something you need to know as many of the buses only have signs in Thai.
Tuk-tuks in Bangkok – Be warned, although fun for the first-time user, tuk-tuks are expensive, the drivers often try to rip-off tourists and they're hot and smelly (you breath in lots of pollution). But, everybody should take a tuk-tuk once in their life. Just remember, bargain with the driver BEFORE you set off, hang on tight and enjoy the ride.
Motorcycle Taxis in Bangkok – My favorite mode of public transportation in Bangkok is the motorcycle taxi. These are the guys on motorbikes sitting the end of every Bangkok street. They wear colored vests with numbers on the back, and you can take them for short or long distances. You can't wave a motorcycle taxi down, like you can a regular taxi, as they all work certain areas so stopping for you would be encroaching on someone else's turf. Pick one up at the motorcycle taxi stand at the end of the next street.
Fares are from 10-100 baht – 31 cents to $3 – depending on distance. The great thing about motorcycle taxis is they weave around stationary traffic so they're fast. The negative about motorcycle taxis is they weave around traffic, so they can be dangerous. Hold onto the back of the bike, look ahead for potential problems and, most important, have fun – these guys are amazing!
Bangkok Mini Vans – White mini vans are everywhere in Bangkok and are cheap. They go the same routes as buses and stop at bus stops for drop off and pick up, but are quicker and more comfortable. Fares are higher than buses (an extra 12 to 35 cents per trip) but if you want to get there fast, these guys will get you there. Just catch a mini van at any bus stop.
Most though, only have their destination signs in Thai so try to get a Thai to tell you which numbered mini van goes where, or ask the driver when he stops. Most will know enough English to tell you "Yes" or "No".