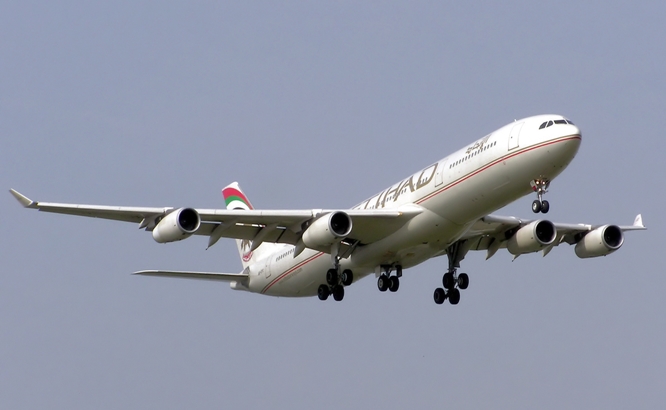 Last week, I flew from Bangkok, Thailand to Vienna, Austria on Etihad Airways. A flight I took as part of a flight and hotel package through Expedia. A package that was extremely inexpensive, considering that it gave me a round-trip airfare from Bangkok to Vienna on Etihad and 10 nights in a 4-star hotel in the middle of Vienna.
So here today, I'm reviewing the round-trip flights from Bangkok to Vienna on Etihad Airways. Flights that included a round-trip portion on Etihad itself (from Bangkok to Abu Dhabi and vice versa), and then a round-trip from Abu Dhabi to Vienna and back on the Austrian budget airline Niki Air.
Cost of round-trip airfare from Bangkok to Vienna on Etihad – With the flight and hotel package through Expedia, I ended up getting one of the most affordable trips I have ever taken. Only $1,635 for round-trip airfare from Bangkok to Vienna on Etihad and then on Niki, and 10 nights in a four-star hotel (Flemings Westbahnhof) in an excellent location in Vienna.
In fact, considering a round-trip flight alone is often more than $1,250 and the hotel I stayed in (Flemings) routinely charges over $90 a night, it is amazing I got the whole package for such a cheap price.
Buying cheap airfares from Bangkok to London
Flights from Bangkok to Vienna and vice versa – As for the round-trip flights themselves, they were excellent value for money.
The flight out of Bangkok was a later flight – leaving at 8:15pm – with a two and a half hour layover in Abu Dhabi. Arrival time in Vienna was perfect too, with the flight arriving before 7:30am on a Friday, which meant I had all day to explore Vienna on the first day I arrived.
On the return flight from Vienna to Bangkok on a Monday, it was a lunch time departure with a five and a half hour flight on Niki Air from Vienna to Abu Dhabi, and a quick one hour and 35 minute layover. Then back on a second plane, this time Etihad, and arrival back in Bangkok just a few minutes before 7am six hours and fifteen minutes later.
All in all, I couldn't have been happier with the flight times and arrival times and, yes, all flights were on time.
Food and service – While with any budget flight, you get what you pay for. I was happy with both Etihad and Niki Air. Service was good, flight attendants were nice, and the food was decent.
On all flights we were served a meal plus a snack about an hour before landing, with attendants also coming around three or four times throughout the course of the flight with a variety of soft drinks, coffees, teas and, of course, alcohol (mainly wine and beer).
Meals on Etihad and Niki were nothing spectacular, but they were all edible (Niki's meals were slightly better than Etihad's overall), and came with a choice of one of three main meals (usually chicken, beef or some type of pasta or rice dish) and a side salad, dessert, a roll and butter, and cheese and biscuits.
You could also choose an alcoholic beverage with your meal or, if you preferred, a soft drink, water or tea or coffee.
Minor complaint — My only minor complaint about Etihad was the flight from Abu Dhabi to Bangkok was freezing. I finally went to ask for more coffee in an attempt to warm up, passing half a plane of passengers on my way who were swaddled in blankets. The flight attendant not only gave me coffee, but also two extra blankets.
Sadly, the airline deliberately keeps the temperature this cold as it makes the plane more fuel efficient. Not fair on the passengers, though, who are forced to spend six hours barely being able to feel their extremities. Because of this one thing, Etihad will not be my first choice for my next flight to Vienna early next year, sadly.
All in all, if you do not mind a cold plane as much as I do, I recommend looking at flying from Bangkok to Vienna on Etihad Airways as the service, the flights and, of course, the price were good.
Just remember, if you are going there for any reasonable amount of time, do look at the flight and hotel packages on Expedia rather than just stand-alone flights, as it is difficult to get a better, more affordable deal than any one of these.