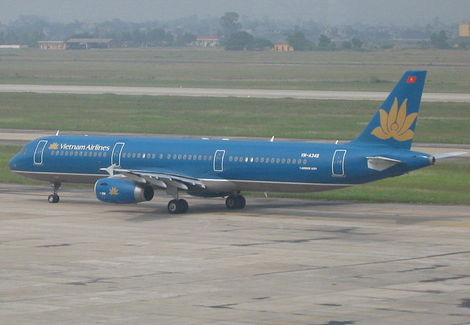 The last two times I've flown from Bangkok, Thailand to Hanoi, Vietnam, I've flown on Vietnam Airlines. Living in Bangkok, Hanoi is a wonderful city to visit for a three-day weekend or longer, which is why many Thais and westerners travel there and Vietnam Airlines is the popular airline to take. With other airlines to choose from and some supposedly better, I've yet to meet anyone who hasn't enjoyed their flights on Vietnam Airlines, and here's why.
Excellent Customer Service – From the moment you check in at the Vietnam Airlines desk, you get perfect customer service. Check in is efficient and the desk staff is lovely – always happy, smiling and friendly. Once on the plane too, Vietnam Airlines flight attendants make sure you have everything you need, bring in-flight food and drinks quickly and were helpful when it came to completing the Vietnamese immigration forms, which my first time I found a little confusing.
The cabin crew wears the traditional Vietnamese dress too, which makes you feel like you're on your way somewhere exotic and special – and they look simply lovely.
Vietnam Airlines Flights – I've now taken four flights between Bangkok and Hanoi and had excellent flights every time. They've left on time, arrived either on time or early, and even if only speaking minimal English, the cabin crew has made absolutely sure we were well taken care of. Planes are older, but seem well taken care of and are not only very clean but also well-stocked with pillows and blankets, particularly nice on night flights.
My only complaint was the planes are extremely cold once airborne for a while so, if you suffer from extreme cold like I do, make sure you take a warm jacket and request a blanket once you board. Leg room on the planes though is decent, so you get a comfortable flight.
The Food – Obviously, the food served on Vietnam Airlines is mostly Vietnamese food but, on all the flights I've taken, it's been delicious. While portions aren't overly generous (but that's quite normal in Vietnam, and probably why the Vietnamese are so thin and healthy), it was nice to have things like Vietnamese spring rolls, baguette sandwiches and containers of fresh cut fruit. Coffee is served on the flight but you normally have to ask for it. Otherwise, just make do with the bottled water the cabin crew brings around.
The Price – We checked every airline before booking Vietnam Airlines, and discovered every time they were the cheapest. If you book enough in advance (at least a month), you can usually get their 'Economy Saver' fare, which makes a round-trip flight from Bangkok to Hanoi extremely cheap.
The last time I flew to Hanoi, my friend and I paid around 6,800 baht ($219) each, which was inclusive of all taxes and fees. Not bad for two hour round-trip flights.
If you're planning on flying from Bangkok to Hanoi, or vice versa, you can't go wrong taking a Vietnam Airlines flight. They're cheap, reliable, with lovely staff and on-time service.