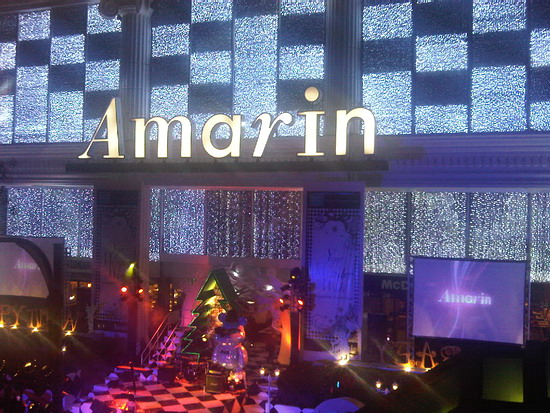 One of my secret pleasures in Bangkok, Thailand is to shop at Amarin Plaza. Once known as Sogo, Amarin Plaza is located slap bang next to Chidlom sky train, which it's connected to by a sky bridge. Can't get more convenient than that.  It's also one of the most under-rated shopping malls in Bangkok – less crowded than most, but still with some pretty darn good shops, restaurants and handicraft stores.
For shopping, Amarin Plaza has five floors of antique stores, jewelry shops, Thai silk and tailor shops, handicrafts, and furniture stores.
The first floor (the street-level floor with Starbucks on it) is one of my favorite places to go for inexpensive market-style shopping in an air-conditioned environment. Stalls come and go here on a weekly basis, so there's always something new to see but look for clothing, shoes, books, jewelry and Thai handicrafts.
Amarin Plaza is also a wonderful place to get a suit or dress made as there are a number of excellent tailors and Thai silk shops that will be happy to help.
For dining, don't miss Black Canyon, S&P and, of course, Snax – a cute little cafe and bar on one of the balconies overlooking the mall's atrium below.
Or, if you like a huge choice of food at an inexpensive price, head to the top floor to The Cook food hall. Here, you'll find tons of food court stalls selling Thai food from all over Thailand – noodles, curries, som tam, duck, chicken dishes and some of Thailand's superbly tasty traditional desserts.
You'll find Amarin Plaza on Ploenchit Road, next to Chidlom sky train station.
Website: http://www.amarinplaza.com/