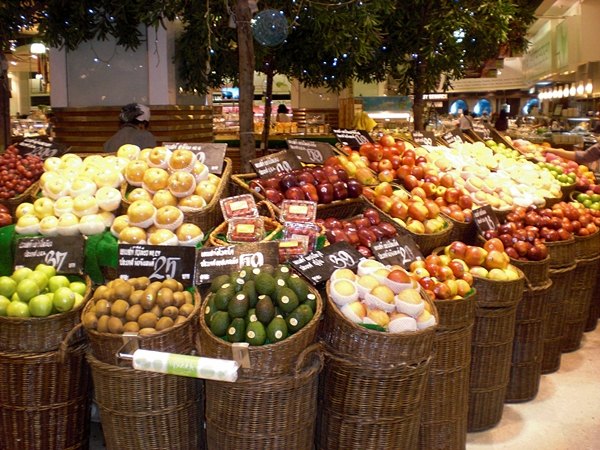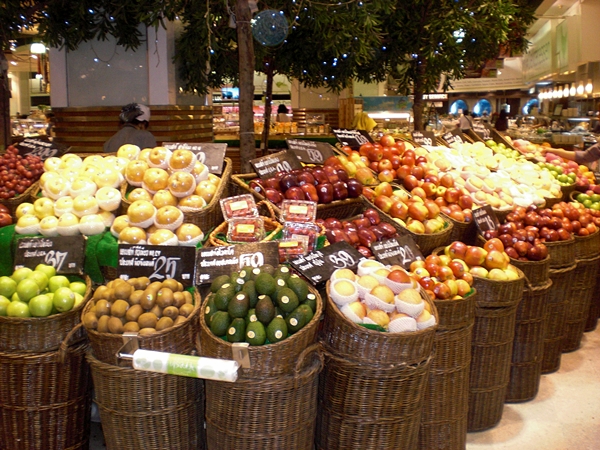 If I need to buy imported food in Bangkok, Thailand and don't mind spending an arm and a leg, I shop at Gourmet Market at Siam Paragon. One of the most exclusive malls in Bangkok and known for its high-society clientele, Siam Paragon's Gourmet Market supermarket does have every type of imported (and local) food you'd ever want. You just have to be careful not to overspend as it's easy to do.
Gourmet Market Food – Siam Paragon's Gourmet Market has the best choice of imported and local foods in the city. The supermarket is huge and sells everything from aisles of Japanese packaged foods (noodles, seafood, chocolate, potato chips, pretzels) to local Thai food (curries, fish, rice dishes) and lots of imported goodies (American peanut butter, Dutch cheese, Malaysian chocolate and French pate).
When you walk through the main door, to your left you'll see the fruit department plus an enormous counter of dried fruits and nuts. High priced, the dried fruit section showcases some of the best in the country so, if you're a dried fruit nut, don't even think about the price as it is worth it.
The fruit and vegetable department with a huge salad bar, a counter selling sandwiches and homemade soup and already prepared Thai desserts is also on the left. Make yourself a salad at the salad bar, and don't forget to grab a container of soup – the pumpkin and lobster bisque soups are particularly amazing.
Further into the market, the enormous imported cheese and meat section is on your right, as well as frozen foods and drinks. You'll find boxes of sushi here, ready to go for a quick and healthy lunch. There's also a yummy Italian counter serving bowls of pasta and pizza that you can eat right there.
Continuing on into the store, don't miss the aisles of tasty Japanese snacks, enormous selection of chocolate both imported and local, a large coffee section, every Thai spice imaginable, lots of bottles and boxes of drinks, and a vast section of cereals.
Towards the back, you can get paper products, shampoos and toiletries, cleaning supplies, bowls and cooking supplies, and don't miss the tiny but excellent pet department squashed way in the back in the right hand corner.
Unusual Items at Gourmet Market – Siam Paragon's Gourmet Market carries several wonderfully unique items. There's a small Thai products stall near the vegetable section, which sells some amazing handmade Thai soaps, Thai teas, Thai herbal drinks and even organic cereals.
Just across the aisle from the Thai products stall are a few freezers loaded with frozen Japanese products. Awesome for weird Japanese sea food, frozen noodles, Japanese snacks and ice creams, grab something you've never eaten before just for the experience.
At the checkout section to the far right side, there's a small counter stacked high with handmade baskets and pottery. Although higher priced than many other Thai potteries, this counter has styles of pottery I've never seen anywhere else in Thailand and they are gorgeous.
Prices at Gourmet Market – As I mentioned, Gourmet Market is expensive. Expect to pay at least 5-10% more per item than at comparable supermarkets in Bangkok. The cheese and meat counters are particularly expensive but they do have a phenomenal selection so, if you don't mind the cost, you will find your favorite cheese here.
For other products, I only buy them at Gourmet Market if I don't have time to travel to my local supermarket or the things I need are on sale.
Location of Gourmet Market – Easy to find, Gourmet Market is located in Siam Paragon mall right next to Siam sky train station. It's in the basement, just behind the food court. Just look for the small cafes and drinks stalls, cake and pastry shops and Gourmet Market is right behind them.