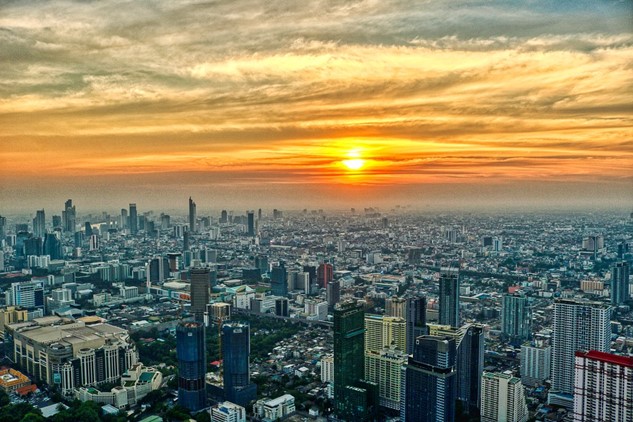 Thai stocks fall with investors reacting to increased Covid restrictions in Bangkok
As Thailand's economy continues its 15-plus month pummeling due to government Covid-19 restrictions, Thai stocks fell today after the government announced new Covid restrictions in Bangkok.
Increased restrictions include all construction sites in the Thai capital ordered closed, thus causing a major blow to the construction industry, restaurants banned from providing in-house service, shopping centers mandated to close by 9pm and most social gatherings banned.
Thai Prime Minister Prayut fell short of calling it a 'Bangkok lockdown', but that is what most Thais and, apparently, investors believe it is.
The key index in Thailand initially fell 1.1% today, which is its weakest in the last month, but then closed down 0.2%.
The Thai baht also fell 0.3% against the dollar.
Investors were reacting to the belief new Covid restrictions in Thailand will further damage the Thai economy by hurting domestic demand, and causing more international investors to avoid investment opportunities in Thailand.
With other South East Asian countries experiencing similar falls in stocks due to their own Covid restrictions, Kitpon Pripisankit, an analyst at UOB Kay Hian Securities (Thailand) PLC. explained "Stricter controls in several countries will hurt the market sentiment. This should push downside pressure on the equities, whose valuations are stretched on optimism about economic reopening."
With Malaysia's current hard lockdown costing the country over a billion ringgit a day, it is not hard-pressed to expect Thailand's economy to take a similar hit the longer the new Bangkok Covid restrictions are in effect.
Current estimates are a loss to the Thai economy of 1.2 billion baht per day every day new restrictions remain in place.
Meanwhile, Thailand's latest attempt to woo international tourists back to the beleaguered South East Asian country — the so-called Phuket Sandbox — is expected to fail as tourists avoid holidays on the Thai island due to excessive regulations and restrictions.