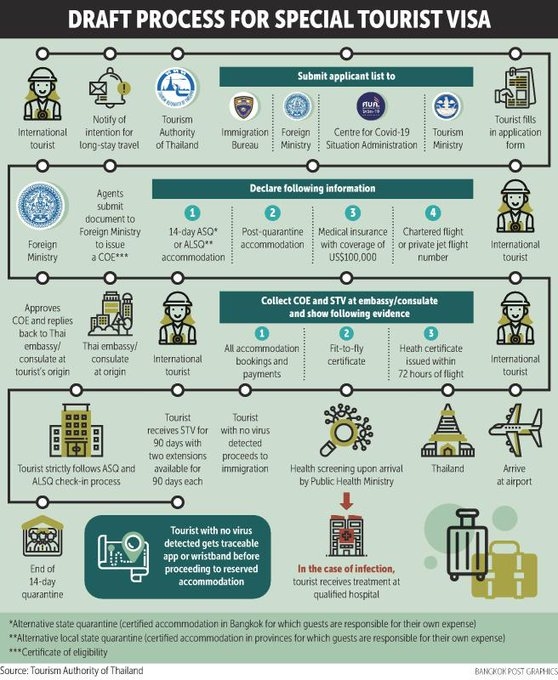 With Thailand's economy the worst it has been since the 1997 Asian financial crisis, and most international tourists banned from visiting the country for the last 19 months, the Thai government is currently instituting or renewing programs that persuade wealthier individuals to visit.
One of those programs has been the Special Tourist Visa (STV), a visa that was introduced last year specifically for people who wish to stay in Thailand for an extended period of time.
Today, deputy government spokesperson Traisuree Taisaranakul announced Thailand's Special Tourist Visa has been extended for another year, meaning it will now run through September 30th, 2022.
The program was originally intended to end this coming Thursday.
The Special Tourist Visa allows foreign visitors to stay in Thailand for between 90 and 270 days. The government hopes foreigners with high purchasing power take advantage of the visa.
According to Tourism and Sports Ministry, during the last year the STV program enabled 5,609 visitors to visit and remain in Thailand for extended periods of time.
Most came from China, Hong Kong, Singapore, the Netherlands, Spain, Denmark and Croatia.
Foreigners who wish to take advantage of Thailand's Special Tourist Visa must fall within the following criteria:
Must be a foreigner from a low-risk country according to current Public Health Ministry regulations.
Accept compliance of preventive measures as prescribed by the government, including submitting to alternative state quarantine (ASQ) in accredited hospitals/hotels for not less than 14 days upon arrival.
Provide evidence of a place to stay or accommodation during the long stay visit.
Show proof of payment for hotel accommodation or admittance to hospitals chosen as alternative state quarantine (ASQ) facilities.