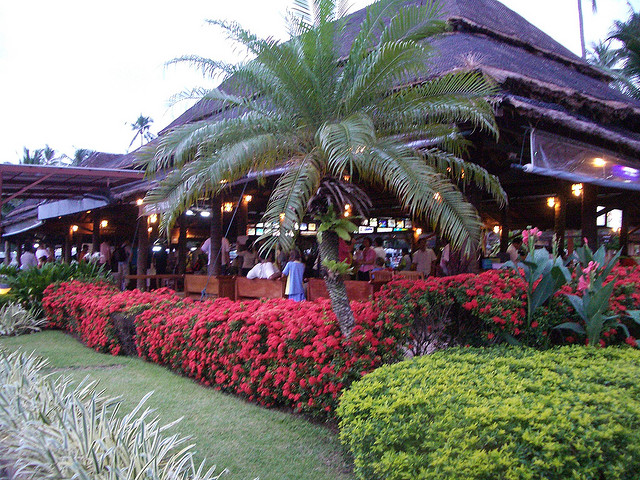 For such a small country, Thailand has a lot of commercial airports. With only 64 million people and a land mass the size of France, Thailand currently has 25 commercial airports. From Bangkok to Chiang Mai, Phuket to Trang, Surat Thani to Pai and beyond, most of Thailand has easy access to a commercial airport. With this many airports in Thailand though, which are the top five and what can you expect to find there?
Suvarnabhumi Airport, Bangkok – Of course, the main airport in Thailand is Bangkok's main airport, Suvarnabhumi. Located around 30 minutes drive from Bangkok's city center, Suvarnabhumi Airport was officially opened in 2006 and has been Thailand's main airport ever since. It's also the hub for Thai Airways, Bangkok Airways, Air Asia (Thailand branch) and Orient Thai Airlines.
Suvarnabhumi is an immense airport with more than 40 million people traveling through it in 2009. Its international departure area is full of high-end duty free shops, restaurants and cafes. However, with most of them selling the same things you can find in shops all over Thailand, but more than double the price, there's not much reason to shop here.
In 2009, Suvarnabhumi was in international news as several foreign tourists reported being 'arrested' by airport police and accused of shoplifting, which they all denied. They were also told their court cases would be delayed unless they paid a huge fine (several hundred dollars). This mafia-style harassment severely damaged Suvarnabhumi (and Thailand's) reputation, with many foreigners warning others to avoid travel to Thailand if it means flying through Suvarnabhumi airport.
Phuket International Airport – Thailand's main holiday island, Phuket, is home to Phuket International Airport. It's the second busiest airport in Thailand with both international and domestic terminals. Another small airport, it still has a nice departure area with several restaurants, shops and cafes and arrivals is fast and efficient.
Unfortunately, Phuket International Airport is more recently infamous for the One-Two-GO Airlines flight that crashed there in 2007, killing 90 out of 130 people on board. The airport is known for sometimes having extreme weather that comes into the area quickly.
I've flown into Phuket many times over the last decade though, and never had a problem with either take offs or landings. The One-Two-Go crash was simply a tragic accident, one that could happen at any airport in the world.
Chiang Mai International Airport – Located in one of Thailand's most popular tourist cities, Chiang Mai International Airport is the main airport for travel to most of northern Thailand. In fact, every year, more than 2 million people arrive or depart at Chiang Mai International Airport.
The airport itself is only a few minutes drive from Chiang Mai but is actually quite small. On arrival for a flight out of Chiang Mai, you'll go through electronic security at the main doors to the airport where you'll see the check-in desks immediately ahead. Once checked in, you'll have a choice of a few old-fashioned shops and several small restaurants and cafes.
Be aware though, if you have a flight out of Chiang Mai after 10pm, almost all shops, cafes and restaurants will have closed by then so eat before you get here. Arrivals into Chiang Mai from other cities in Thailand are whisked through the airport quickly, with baggage rarely taking more than 10 minutes to arrive on the conveyor belt.
Koh Samui Airport (also Ko Samui Airport) – Koh Samui airport is the only airport on the southern Thai island of Samui. It's privately owned by Bangkok Airways and only five airlines are allowed to fly into it with Bangkok Airways and Thai Airways as the only domestic carriers.
The interesting thing about Koh Samui is it's a completely outdoor airport, except for a small gift shop. However, with Koh Samui, like all of Thailand, being incredibly hot, this makes it uncomfortable waiting for flights so if you absolutely abhor heat, flying in and out of Koh Samui might not be for you. There's an international and domestic terminal, but they're both just small outdoor gazebo-style places right next to each other.
Hat Yai (Had Yai) International Airport – The main airport in the south of Thailand, Hat Yai handles more than three quarters of a million passengers every year, with seven major airlines flying into it. It's only a few minutes drive from downtown Hat Yai, but is a small airport with just one terminal and a variety of shops and cafes.
Unfortunately, due to it location in the predominantly-Muslim south of Thailand, there have been several bomb scares and one bomb blast by Muslim separatists in 2005 that killed one person and injured several others.
Other airports in Thailand include Chiang Rai, Krabi, Khon Kaen, Mae Hong Son, Nakhon Si Thammarat and Pai airports. Most Thai airports, other than Suvarnabhumi, are small yet, compared to other areas of Asia, are actually very efficient.
Photo – Koh Samui's beautiful outdoor airport – copyright re-ality, Creative Commons License