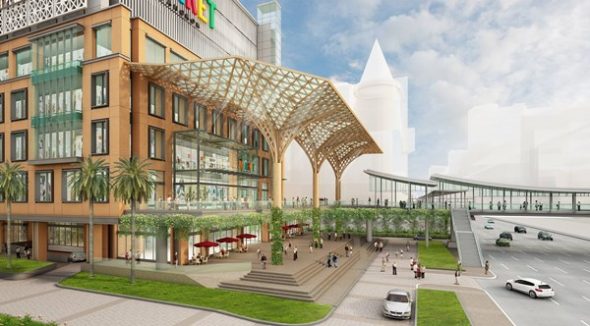 The Market Bangkok opens in Thailand capital on Valentine's Day
If you love to shop, then Bangkok, Thailand is the best city to do it in. Especially this month, as the Thai capital's newest shopping mall The Market Bangkok opened today.
Of course, The Market Bangkok has stiff competition, located as it is in the busy shopping district of Ratchprasong — directly opposite Central World, one of Asia's largest shopping malls, and down the street from Central Chidlom and Gaysorn.
That being said, Thais love to shop, and particularly love to frequent new shopping malls. It is highly likely then that The Market Bangkok will be popular as well.
Bangkok's newest mall is owned by The Platinum Group, developers and owners of Platinum Fashion Mall — a wholesale, clothing and accessories mall, and one of the cheapest places to shop in Bangkok.
The Market Bangkok, however, is a more upscale venture, with its six-storey structure featuring more than 1,200 brand name shops, restaurants and cafes.
In celebration of today's opening, there will be a slew of promotions ongoing in Bangkok's newest shopping mall throughout the next month. So why not head to Ratchprasong to take advantage of them?
Remember to apply for a Market FanClub Card while you are there as well. That will give you the ability to collect points as you shop and eat, and thus gain certain discounts and privileges on return visits throughout the year.
You can get to The Market Bangkok shopping mall via the BTS sky train. Take the Sukhumvit line train to Chidlom station (aka Chit Lom), and then walk along the skywalk right to the mall entrance.
The Market Bangkok is located at 111 Ratchadamri Rd, Bangkok, Thailand 10400