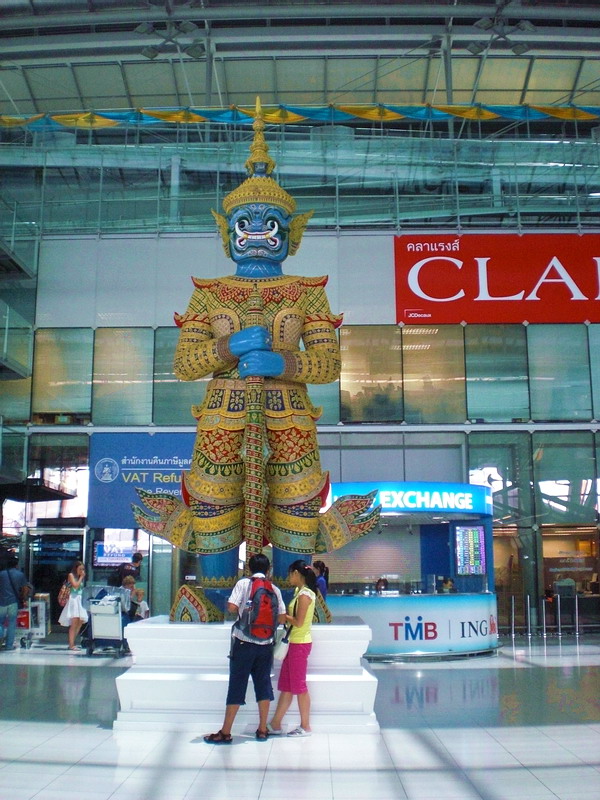 Bangkok's international airport, Suvarnabhumi Airport (pronounced Su-wan-a-poom Airport) opened at the end of 2006. The airport was years in development and opened almost a year behind schedule, with many problems.
I traveled through it two weeks after it opened, only to discover all the computer systems were down so you had to check in for your flight manually, there weren't enough bathrooms, there were tons of gift shops but hardly any restaurants, and there were no signs anywhere in the airport so good luck finding the bathroom.
The airport is also built on a swamp, so Westerners didn't call it "Swamp-a-boom-boom" for nothing.
More than 12 years later, Suvarnabhumi Airport authorities have managed to solve most of the airport's problems and, as the airport is incredibly beautifully designed, it is now a wonderful place to fly from.
However, it is also one of the busiest airports in S.E. Asia, with more than 64 million people traveling through it last year. Suvarnabhumi also boasts the world's biggest terminal building under one continuous roof, so surviving it in one piece can sometimes be frustrating.
But, follow these tips, and you too can have a flight through Suvarnabhumi Airport that is easier, less stressful and more fun.
1. Book a morning or afternoon flight if possible. Evening flights out of Suvarnabhumi are often a nightmare. In the evening, they almost always seem to be short-staffed on the Immigration desks so the lines are enormous. Last time I went through in the evening, it took me almost 45 minutes to get through Immigration. In the early morning, it is often less than five minutes due to the many international flights leaving around this time, and immigration staff working quickly.
Related: How to get through Suvarnabhumi immigration quickly and easily
2. Arrive at least two and a half to three hours before your flight. Suvarnabhumi Airport is one of the largest airports in S.E. Asia.
This means, even if everything is done efficiently and you are checked in quickly, it is still a long walk to immigration, a few minutes through immigration, and then a long walk through more than a mile of restaurants, duty-free and gift shops to your gate for boarding.
Plus, Suvarnabhumi Airport really does have some of the most beautiful gift shops I have ever seen. So allow plenty of time to be able to browse the shops, buy a couple of last minute souvenirs, and have a quick snack.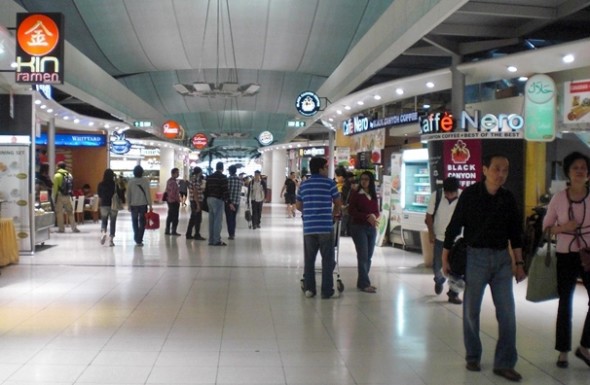 3. Eat at the best places at Suvarnabhumi Airport. There are more than 60 places to eat at Suvarnabhumi Airport, but I would recommend avoiding the sit-down restaurants if you are in a rush, as tables are sometimes scarce so you might have to wait a while.
There are a lot of fast food places though and many of them serve good food at cheap prices.
In fact, Suvarnabhumi Airport has some of the cheapest airport food I have come across anywhere.
Related: Which are the best cheap restaurants at Suvarnabhumi Airport?
Caffe Nero by Black Canyon Coffee has great coffee, lattes, sandwiches and pastas for cheap prices. Doi Tung Coffee serves wonderful lattes, muffins, quiche and croissants.
Chow and Haru make quick Chinese meals that are quite tasty, and Reef Bar has good cocktails, sandwiches, pastas, and entrees. They also serve quickly.
4. Take a nap and have a shower. If you have arrived at the airport, are all checked in and are feeling hot and sweaty, it is possible to relax and take a shower before you board your plane.
If you haven't already gone through immigration I would definitely recommend the At Residence Suvarnabhumi hotel. Their rates are quite cheap for a full night's stay. They are also just a quick 5-minute taxi ride from the airport.
If you have already gone through immigration, or have arrived in Bangkok on a quick layover, then you also have the choice of using the Miracle Transit Hotel.
The Miracle Transit Hotel is on Concourse G of the airport on the fourth floor, and offers private rooms and bathrooms. However, they are quite expensive, starting at 71 euros (approx. $80) for just 6 hours, so I would recommend the At Residence Suvarnabhumi first and the Miracle Transit Hotel only as a very last resort.
5. Shop the duty free shops at Suvarnabhumi Airport. Suvarnabhumi has some of the best duty-free shopping in Asia. You can buy cigarettes, perfume, imported chocolate, whiskey, jewelry, toys, clothes and much more. Burberry, Hugo Boss, Dunhill, Gucci, Prada, Armani, Jim Thompson Silk and more all have shops here. Make sure you leave plenty of time for duty-free shopping before your flight leaves.
So, the next time you depart from Suvarnabhumi Airport follow these quick tips and your visit to the airport will be more pleasurable and you'll board your flight having had an enjoyable few hours at one of the most beautiful airports in the world.
**All of the above tips are for departing from Suvarnabhumi Airport. If you are arriving at Suvarnabhumi, you can actually expect a hassle-free and extremely quick trip through the airport and out into Bangkok.
The last time I arrived at Suvarnabhumi on an international flight, from plane landing to climbing in a taxi (including collecting luggage from the luggage carousel) took less than 30 minutes.
Departing however is still the luck of the draw,and can sometimes be an exercise in frustration. But, plan ahead, and you should sail through with ease.

Related: Which are the fastest and cheapest ways to travel from Suvarnabhumi airport to Don Mueang Airport in Bangkok, Thailand?