As a resident of Bangkok, Thailand I travel through Suvarnabhumi Airport many times a year. One of south east Asia's biggest airports, Suvarnabhumi was voted one of the world's top ten airports due to its efficiency, staff, amenities, convenience and, of course, its restaurants. Suvarnabhumi has more than 60 restaurants to eat but many are not cheap. If you'll be traveling through Suvarnabhumi Airport and know you'll want a cheap meal or snack, eat at one of these restaurants. The food is good and prices much cheaper than other Suvarnabhumi restaurants.

Dairy Queen – Now, of course, when you're in Thailand you don't expect to have Dairy Queen recommended to you as one of the best restaurants in Suvarnabhumi. Don't worry, it's not. However, it is just about the cheapest restaurant in the airport, beating McDonald's by a mile and Thai restaurants by marathons so, if you're trying to save money, Dairy Queen, in the international departure area, is the place to eat.
The last time I flew through Suvarnabhumi Airport, I was late so grabbed a chili hot dog, french fries and a coke at Dairy Queen. Surprisingly, the whole meal was about $3.30, comparable to Dairy Queen anywhere else in Thailand. McDonald's just across though was $9, for something that wouldn't cost you more than $3 in the center of Bangkok. That's why I say Dairy Queen is the cheapest restaurant to eat at in Suvarnabhumi, so no wonder it's always busy.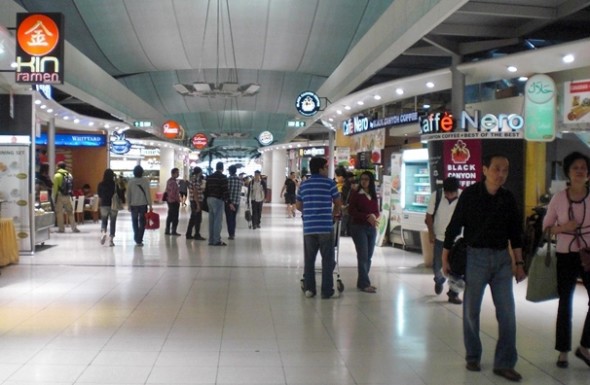 Caffe Nero by Black Canyon – For a Thai brand fast food restaurant, Caffe Nero by Black Canyon, also in the international departure area, is a great choice. In Bangkok, Black Canyon Coffee is one of my favorite restaurants to grab a quick cheap bite and, at Suvarnabhumi, they're a good cafe for a latte, a fruit shake, a sandwich, pasta, a Thai rice dish, or a number of other quick meals. Prices are higher than at a comparable Black Canyon Coffee in Bangkok, but not as high as many of the other restaurants. Expect to be able to get away with pasta, a rice dish or a sandwich, plus drink for around $6-7.
There's also a Caffe Nero by Black Canyon in the Main Terminal, so you don't have to be a passenger to eat here. Just expect it to be busy as the latest trend with Thais is to take the new express train out to the airport, spend an hour wandering around, grab lunch and come back. A cheap afternoon out for them, but it makes the restaurants in the Main Terminal very crowded.
Whittard of Chelsea – One of my favorite eateries in the early morning, when I'm looking for a good cup of tea or a latte and a satisfying pastry, is Whittard of Chelsea. A British company, Whittard serves excellent croissants, cinnamon rolls, and puff pastries as well as scrumptious cakes later on in the day. Lattes here are good and prices, while not cheap, are cheaper than many of the other cafes and bakeries, and, in my mind, the coffee and pastries are better.
Magic Food Point – Just about the best and cheapest place to eat at Suvarnabhumi, particularly if you like Thai food, is the Magic Food Point food court. Many passengers don't know about this as it's tucked away on Level One – but ask any staff at any of the check-in desks, they'll give you directions.
Magic Food Point is superb as it's just like any typical Thai food court. You buy coupons to use at the food stalls, browse the many small restaurant stalls where every member of your party can buy something different, then sit in the main eating area all together. Prices are much cheaper than in the main airport departure area as airport staff eat here. I've eaten decent Pad Thai, Som Tam and other rice and noodle dishes at Magic Food Point as well as some delicious Muslim halal food. At just over $1 a dish, it's particularly useful for those travelers running out of Thai baht and not wishing to exchange more money.
copyright C. James
Learn More About Thailand